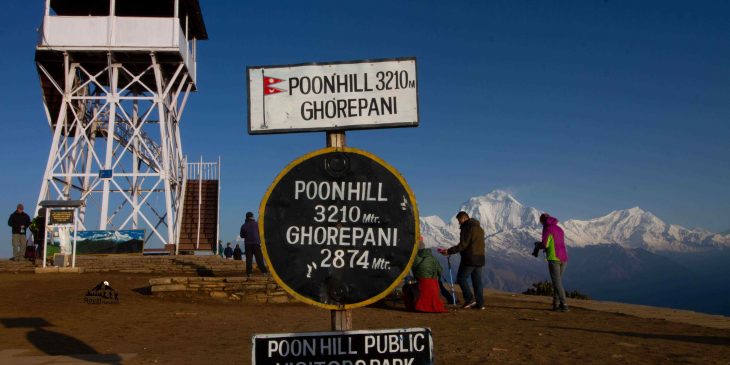 Overview
Poon Hill Trek is popularly known as Annapurna Sunrise Trek or Annapurna Panorama Trek. It is one of the most favored treks among trekkers from different parts of the world. Poon Hill lies in Myagdi district of Dhaulagiri zone in the western central part of Nepal. Hiking through the beautiful scenarios and traditional villages of the Annapurna Region, Poon Hill Trek is a surpassing experience. Unlike Everest Base Camp Trek or Annapurna Circuit Trek, this trek is one amongst many short incredible hikes in Nepal. Trekkers will get to observe beautiful terrace farming and the green farmlands along the trails. Additionally, the views of Annapurna and Dhaulagiri ranges amid the rhododendron forests, are simply breathtaking. Much more to that, the marvelous Ghandruk village highlights the cultural magnificence of the Gurung communities living there. Overall, the splendid views of the cascading waterfalls and tiny village settlements provide fantastic opportunities to photographers.
Background Information
A quick peep into the pre-trip information that comes handy for those gearing up for the awe-inspiring Poon Hill Trek.
Number of trekking days: 4 days
Best Trekking Months: September to May
Maximum Elevation on the Trek: 3210 meters
Trip Cost: The price for this trip will vary considerably depending on various factors. Trekking with an authorized agency will cost you a bit higher but guarantees a safe and successful trip. Going solo is cheaper but trekkers won't be able to exploit the cultural magnificence. Using guides and porters on the trek is worth to immerse into the insights of the trekking region although you will be paying some extra bucks for their services. The price tag for this marvelous trek can be as low as USD 600 and can go up to USD 2200 depending on the facilities offered. This price includes return flight from Kathmandu to Pokhara; a road trip instead of the flight will significantly cut down the cost.
Guide/Porter: We recommend you to use guide and porter services, especially those who are trekking in the Annapurna region for the first time. If you do not wish to travel through some agencies, it would be wise to hire an independent guide/porter for your trip. An experienced guide as a companion is a skillful way to grasp in-depth knowledge into the Annapurna region.  You need not hire a porter if you feel you can carry your load for a few days. Sometimes, the guide may compromise and settle to work as your porter too. As such, there is no set price for their services. Negotiations are always open and it depends how hard you haggle.
Tea-house Accommodations: Anything from basic, cheap and moderate to standard tea-houses are available on the entire Annapurna trekking trail. However, prices will vary from one tea-house to another with the services they offer. As a norm, accommodation is very cheap if you dine in the same place you decide to sleep for the night.
Food: There are numerous food options on the trekking trails of the Annapurna region. Normally, tea-houses or lodges have set menus that are not so expensive. Only some high-priced agencies provide open menu to their clients. Trekkers have the privilege to choose their own food items.
Permits: TIMS Card and ACAP permit is mandatory ensuring a legal trek. ACAP entry fee for foreigners is NPR 2000 (approx USD 20) and TIMS card will cost NPR 1000 (approx USD 10). Trekkers must carry both these permits with them. They may need to produce it for inspection on demand at outposts on the trail. Trekkers may purchase the ACAP permit and TIMS card in Nepal Tourism Board Office in Pradarshani Marg, Kathmandu. In Pokhara, they may purchase at the Nepal Tourism Board Service Center and in Besisahar, one can purchase it at the ACAP entry permit counter.
How to reach Poon Hill?
The journey to Poon Hill begins with either a flight (30 minutes) or a road trip (7 hours) to Pokhara. If trekkers have booked with a renowned authorized agency, then they do not have to worry about anything. Otherwise, traveling on a bus or other public means to Pokhara could sometimes be rather hectic. After an overnight layout in Pokhara, you will proceed the following day, on a short road trip, to Nayapul. This is the spot from where you will begin your trekking up to Poon Hill in a few days. Walking past beautiful villages of Tikhedhunga and Ulleri, it is an overnight stop at Ghorepani. Next day, it is an early morning hike to Poon Hill, early enough to not miss the mesmerizing sunrise views. After some glorious moments at Poon Hill, it is time to return to Pokhara, walking past Tadapani and Ghandruk villages.
What to expect in Poon Hill Trek?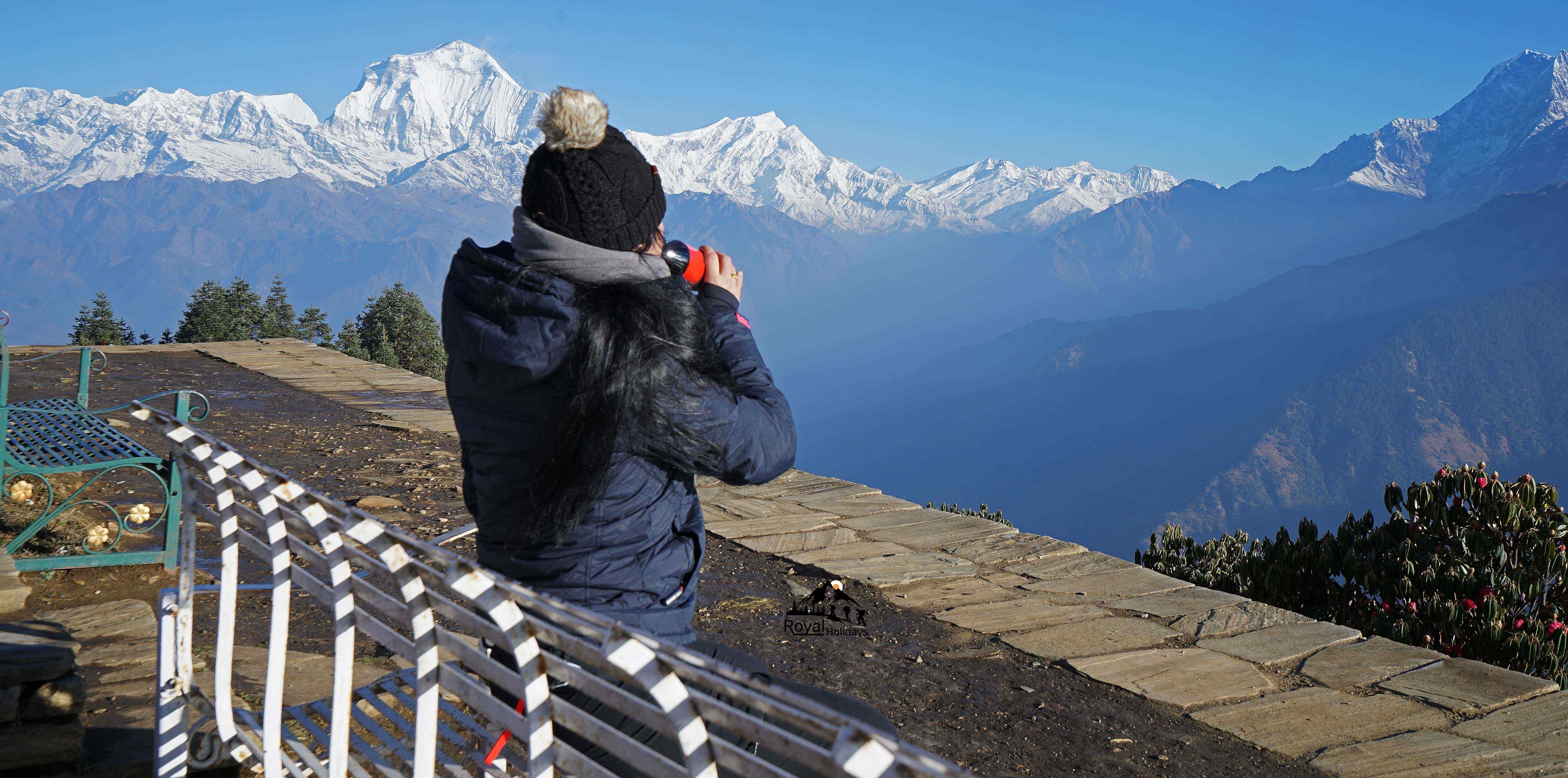 It takes 6 days to complete the trek from Kathmandu to Kathmandu including the first day of drive to Pokhara.
Walk varying terrains for at least 4 to 5 hours each trekking day.
Beautiful and peaceful villages inhabited by Gurung and Magar people.
The highest elevation point of Poon Hill at 3210 m
Great sunrise views – a joy to behold
Most spectacular panoramic vistas of more than 20 different Himalayan peaks.
Unbearable heat of the sun if you are trekking during the end of May.
Altitude sickness symptoms may be experienced with an increase in the altitude.
A lot of trekkers during the peak trekking season.
Several Gurung villages with their typical cultures and traditions.
Packing List for Poon Hill Trek
Packing as little as possible is the wisest thing to do while you are trekking in the mountains, especially in the Himalayas. Rejoice with nature after taking a break from the daily-life stresses. So minimize your luggage as much as possible. Weather is unpredictable in the mountains, so you need to carry certain items without fail to beat the weather combats. Below mentioned are some of the most important things to carry along with you on this trek:
A pair of good hiking shoes, possibly waterproof one.
Thermal layer including top and pants.
Short and long hiking pants.
A good quality hiking backpack.
Down jacket
Light rain and wind jacket.
3/4 T-shirts
A pair of flip-flops
Several pairs of socks
A four-season sleeping bag
Gloves and walking poles
Hat and sunglasses
A small personal first aid kit
Aspirin, anti-diarrhea & anti headache pills, Diamox, and water purifying tablets.
2 water bottles
Toiletries for personal hygiene
Charger and tissue papers.
Poon Hill Trekking Itinerary
Day 01: Drive to Pokhara (6-7 hours) OR Fly Kathmandu to Pokhara (30 min): 820 m
Day 02: Drive from Pokhara to Nayapul (1.5 hours); trek to Tikhedhunga (1545 m): 4-5 hours
Day 03: Trek via Ulleri (2050 m) to Ghorepani (2750 m): 4-5 hours
Day 04: Hike up to Poon Hill (3210 m); then trek to Tadapani (2700 m): 6-7 hours
Day 05: Trek from Tadapani to Ghandruk (1940 m): 4 hours; drive back to Pokhara
Day 06: Drive or Fly back to Kathmandu from Pokhara
Poon Hill Trekking FAQs
How much does it cost for the Poon Hill Trek?
The trip cost of Poon Hill Trek depends on the services availed by the trekkers. For budget travelers using buses instead of flights, the trip cost will hover around USD 350 to 400 per person. However, if flights are used, the cost may rise up to USD 600 to 650 per person. Price, in some cases, may vary depending on the services provided by the agency. If you wish to know your trip cost, please email us with all your requirements at royalholiday24@gmail.com. We will get back to you within one working day with the most competitive price in the market.
Can I do the Poon Hill Trek without a guide?
Yes, it is possible to do the Poon Hill Trek on your own to cut down your cost. But, we do not recommend going without a guide. The trek will seem worthless if you do not get to know about the place you are visiting. Qualified guides will explain everything about the people and their lifestyle, local culture, and traditions. Moreover, if you fall sick or get injured, you will have no one to assist you. If you are lost in the trail, you could lose time getting back to the right track. In addition, communicating with local people becomes much more easier when you have a guide with you.
What documents and permits will I need to do the Poon Hill Trek?    
You need to have your legal passport with a validity of at least 6 months from the date of trekking. In the same way, you need a visa to travel to Nepal from your embassy or get it upon arrival at the airport. We advise you to carry several passport size photographs which could be required every now and then. Besides other documents, it is wise to carry some hard cash of small denominations with you for your personal expenses. The permits required for Poon Hill Trek are: Annapurna Conservation Area Permit (ACAP) and Trekking Information Management System (TIMS) Card. ACAP permit will cost NPR 2000 (approx USD 20) and TIMS card will cost NPR 1000 (approx USD 10). These permits can be purchased either in Kathmandu or in Pokhara.
Is it possible to charge my mobile phone or laptop during the trek?
All the teahouses in the Annapurna region have set up solar power system for electricity supply. Don't be alarmed if the lodge owners charge you a meager amount of USD 2 or 3 per day to charge your mobile phone or laptop. It is suggested that you carry your own universal plug adapter. As a matter of fact, in Nepal, sockets usually have plugs with three round pins. These pins could be big or small in size. Some sockets have plugs with two round pins as well.
What kind of accommodation should I expect in the Poon Hill Trek?
All accommodations during the trek are on twin-sharing basis. Standard guesthouses, lodges or tea-houses will cater to your needs and provide food, accommodation and other services depending on your yearning. Rooms in most of the teahouses will have attached washrooms, however at some places sharing is the only option. Getting a single room at lower elevation is not a problem at all, but at higher altitudes, it could be difficult to acquire a single room. On top of that, you may need to pay extra charge for a hot water shower.
How many does it take to complete the Poon Hill Circuit Trek?
You journey begins and ends in Kathmandu. As per our fixed itinerary, it takes 6 days to complete the trek. However, if you are running short of time and wish to complete the trek earlier, it can be completed in four days too. You need to compromise either with time or the trip cost.
What is the optimum fitness level needed to do Poon Hill Trekking?
Poon Hill Trekking is an easy trekking in the Annapurna Region of Nepal. On a day's trek, you will need to walk 4 to 5 hours. Thus, any person with normal fitness level can embark upon this trek. The only requirements to complete this awesome family trekking package in Nepal are sound health and strong determination.
Is Poon Hill Trekking suitable for children?
The maximum elevation one reaches on this trek is 3210 meters, so the chances of being hit by the high altitude sickness is rare. As the routes are easy, this marvelous trekking in Nepal can be done by people of all ages. In fact, it is suitable for children of all ages, adults and senior citizens with sound health and regular exercise.
How many guides and porters will accompany a group?
As a norm, the baggage of two trekkers will be carried by 1 porter. The trip is led by a professional guide. The number of assistant guides and porters is proportionate with the number of trekkers in a group. Solo travelers sometimes opt to use a porter-guide service from a single person too.
Is there internet service at the tea-houses on the Poon Hill Trek?
Most of the tea-houses on the trekking route have WiFi internet services – there are certain charges for that too. But, at some areas on the trail, the network coverage is very poor and you may not be able to connect with you loved ones back home.
Does your company provide trekking equipment for this trek?
No, we do not provide any equipment for your trekking. However, we will always assist you if you wish to purchase or hire gears and equipment in Kathmandu or Pokhara for your trekking trip.
What is the provision of meals during the trek?
You will have your dinner at the tea-house where you sleep overnight. Next day, you will have breakfast at the same tea-house before continuing the trek. You will have your lunch on the way towards your next destination, where it is feasible. Dal-Bhat-Tarkari (Lentil soup, steamed rice and seasonal vegetables) is the most popular food you will be eating. Other food items may be available but these items, soft drinks or alcoholic beverages will incur a personal expense.
What if I fall sick or get injured during trekking?
If you sense that you are falling sick, or get injured during trekking, first you need to inform about your condition to your guide. He will inspect your condition and advice  accordingly. The guide is well trained in wilderness first aid, so he may need to take prompt decisions depending on the situation. For any emergency issues, he will first inform our office and act according to the instructions received from the operation department.
What is the weather in Poon Hill like? What are the best seasons to trek to Poon Hill?
Bring warm clothes as Poon Hill remains windy during sunrise if you intend to view the glorious views. Normally, autumn (mid-September to November-end)  is the peak season for trekking to Poon Hill. However, Poon Hill sees a lot of crowd even during the spring (mid-March to May-end) season. We do not recommend monsoon as it is very wet. One may trek during the winter (November to February) season as well, but the cold temperatures then may not be suitable for everyone.