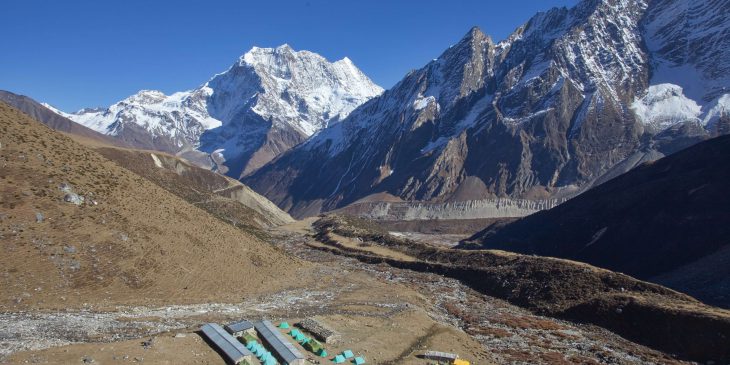 Manaslu circuit trek cost is the inclusion of everything that you want to know about the thrill-seekers Nirvana. As it is no surprise that things operate differently in the high mountains, most cost breakdown starts from the preparation and more, well before the trekking begins. With some mind-blowing facts and delights to look forward to here, we convince you why Manaslu is the perfect trekking destination for both budget and affluent trekking in the Himalayas. 
For a general comparison let's look at two other popular trails in Nepal, the Annapurna Circuit and Everest Base Camp. Manaslu is more affordable to complete than both of them when domestic flights are included. Often considered as a more adventure-promising alternative, Manaslu has risen to the prominent pedestal in the Himalayas. On a good season trekking in the Nepalese Himalayas is not short of natural, cultural, and picturesque components. Manaslu introduces that uniqueness that even frequent trekkers to Nepal want to witness during their trek. As a whole, Manaslu per day is 15% and 18% less costly than Annapurna and Everest respectively. 
From booking charges to guides permits and more, here is a detailed analysis of the Manaslu circuit trek cost to get familiar with before your journey. 
Tentative Cost for Solo and group Manaslu Circuit trek 
If you browse for a while most costs for completing the Manaslu Circuit are between the USD 1050 and USD 1500 mark. These variations are due to the inclusion/exclusion of certain factors like transportation fares, shared rooms, guides experience, and more. If you are a solo traveler you can enjoy the lower spectrum of the cost when planned properly. The most important thing to remember for you is that the least price doesn't always guarantee the best value for your money. 
One common theme among travel operators is to keep the lowest price for gaining more attention. These might often lead to poor quality of services and sometimes inconvenient trekking experiences. Manaslu is a once-in-a-lifetime opportunity in the Himalayas and if you prefer everything to be perfect avoid those costs. A good and complete Manaslu circuit will balance at 1200$ for fixed departures and 1400$ for solo trekkers. Those figures include everything but your personal expenses. You can keep that in mind and choose the right package for you. 
As for the uppermost limit for Manaslu Circuit, well you can spend as much as you can. Trekkers can't just get enough of Manaslu. If budget and time are not your problems you can add the Annapurna Circuit and extend your itinerary up to a month. A celebratory week in Pokhara might be fantastic too as well as several other mesmerizing tours around Nepal. One thing is guaranteed while you are here that every buck you spend is worth the experiences it comes with. 
Budget Breakdown 
Further breaking down the total cost of the Manaslu Circuit we can separate them into seven segments. In no particular order here, we provide you the rough range of expenses with your options for the Manaslu circuit trek. 
Food 
Food during the Manaslu circuit will vary slightly as the days progress. Manaslu trek after the 2015 earthquake has transformed from a camping trek to a proper teahouse trek. The price here is that of the higher altitude teahouses i.e., after Namrung. We guarantee you there will be no problems with a fresh and warm meal throughout the trek. A typical breakfast will cost 4-8 dollars. Similarly, other meals will cost you around 10 dollars each. Drinking water could be refilled in the tea houses but a dollar mineral water is also commonly available. Per day you will spend nearly 35-50 dollars on food during the Manaslu circuit.
As for the food menu, it slims down as we move up towards the Larkey La Pass. As far as teahouse treks go, Manaslu in recent years has grown a lot. Although not on par with the likes of Annapurna and Everest regions, trekkers can still enjoy some delicious food to select from here. The best part about food is the use of Local ingredients and resources. You can expect much more from Manaslu as the trail goes from the lower hills to the high mountains. As excited as you might be, try easting light and simple during the trek. It will repay you with the ease in walking and with good health in Manaslu region trekking. 
Transportation 
The Transportation cost for any trek in the Himalayas points out the cost to head to and from the trailhead to Kathmandu Valley. In the case of the Manaslu circuit, the trail starts at the beautiful hillside village of Machha Khola. You only have the option to drive to the heart of the Gorkha district for this trek. Starting from the Kathmandu valley we follow the Prithivi Highway for a while. From Dhading onwards leaving the highway you will also have a significant off-road experience. Altogether it is a 6-7 hours' drive with a lunch stop in between. 
Now as you know the journey completely, here are your options. You can take a local bus, a private vehicle, or a tourist bus provided by your travel operator. Local transport is the cheapest option and you can reach Soti Khola for less than 12$ with it. However, it does come with local flair and is a bit more time-consuming. For most fixed departures the trekking agency has a separate bus/vehicle with the guides and trekkers to Machha Khola. This will be included in your package. Your third option will be expensive but comfortable and flexible. A private jeep will empty your wallet by 250$ each way. You can plan your transport budget accordingly. 
Accommodation 
Community-operated teahouses and local teahouses are the available accommodation options for travelers in the Manaslu circuit. While in Kathmandu you can select from 10$ to 500$ rooms to stay. Once the trek starts you can stay at a decent price in a basic teahouse-style room. The accommodation charges will be comparatively less as long as you have your meal at the same place. To summarize it all you can get 5$ to 15$ rooms easily at your overnight stops. Wi-Fi services are provided by some of the guesthouses so ask beforehand. Extra charges might be common for it though which might also cost you some bucks. 
Unlike Everest and Annapurna, the availability of a room in the Manaslu circuit is not difficult even during the Peak season. However, you can always book or notify the teahouses to be clear and hassle-free. You can find the list of teahouses or guesthouses easily or the best way is to let the guides communicate with them. 
Permit Charges for Manaslu region trekking 
Manaslu Circuit Trek requires you to attain two regular Conservation Area permits and one restricted area permit. The conservation area permit is for the Manaslu region where you will spend most of the trek walking. From Jagat to Samagaun is the restricted region enclosing the Tsum Valley hence the requirement of the Manaslu RAP. Soon after that, you will enter Annapurna CA crossing Larkey La pass where trekkers require to have the next permit. As per the general itinerary of the Manaslu circuit trek here are the charges for these permits. For more update please check Nepal immigration official site. 
1. Special permit for restricted area in Manaslu (Manaslu RAP)
From September to November: 100 USD per person for 7 days
From December to August: 75 USD per person valid for 7 days
The permit extension will cost you an additional 15$ per day in case you have to stay for a longer period in the restricted region. 
MCAP starts from the village of Philim. The charge per person is NPR 3000 with no limit of days. 
This permit is required in the return trail from Dharapani till Besisahar. The charge per person is also NPR 3000 with no limit of days for ACAP. 
These permit costs are generally included in your trekking package. However, make sure to ask for its inclusion before you book the trek to Manaslu. 
Guide and Porters (if required)
One of the most important factors about Manaslu is that you are not allowed to do it completely alone. A local guide is mandatory even for solo travelers due to the rural nature of the trail. Guide costs are on the trekking package when you book the trek with a proper trekking operator. A personal guide here could charge you anywhere from $35 to$ 50 per day depending on their expertise. As for the porters, you can hire the local ones to aid the economy. But, if you are confident enough, you will be able to complete the circuit without one too. 
Additional expenses 
Additional expenses in the Manaslu circuit include all personal expenses, tips, and unplanned expenditures. You might like a souvenir or try some local products while you are here. Similarly, hot water showers can cost extra in high altitude tea houses which you can enjoy. There are bakeries in Sama Gaon where you can treat yourself during the acclimatization stop too. Similarly, these also include the preparation shopping and items you want before the trek begins back at Kathmandu. A few hundred bucks will not hurt for the additional expense fund here. 
For emergencies, the best idea will be to take travel insurance that covers evacuation, medical emergencies, or cancellation of the trek. This might cost significantly more without insurance, keep it in your mind. 
The cost advantage for a group trek or fixed departures 
Transportation tends to get much cheaper for renting a private vehicle if you are sharing it. It is the same for local transportation but you will be traveling with familiar trekkers. 

Sharing the guides and sometimes even porters can directly help you to split the daily charges. 

 Some hotels especially in Kathmandu offer better deals for groups and you can benefit from that too. 

You can share the cost of any additional side trips not included in the Manaslu circuit trek as well. 

 Manaslu circuit trek cost for a group is generally found to be at least 10% or cheaper than solo cost. 
Advantages as a solo traveler in Manaslu Circuit
There are not many advantages cost-wise as a solo traveler. However, there is plenty to look for which will look like a bargain for trekking in the Himalayas. 
Highly customizable itinerary, where you get to stay for the best experiences. 

As you are mandated to take a licensed guide for Manaslu Circuit, you can communicate better with him/her.  

Unlike the Everest and Annapurna Solo trekking in Manaslu is a challenge any adventurer can look forward to. 

Eat at your own time and a better selection of your accommodation too.

You can trek at your own pace. That is, you are under less pressure to stay in the group. 
Tips to cut some of your personal expenses throughout the Manaslu Circuit Trek 
Your trek package generally covers your fundamental costs like food, permits, accommodation, transportation, and guides. For fixed departure treks you are also provided with a few porters for the whole group, cost included. Personal expenses can be managed and you can spend near to nothing on the trek. Here are some general tips to cut some of your personal expenses. 
Buy your trekking equipment in Nepal. If possible, rent them. 

Carry a power bank as charging your phone might cost extra in some places. 

Don't get crazy on energy bars. Nepali foods do provide the energy to go for the trial. 

Depending on the trekking season you might lose some extra gears for trekking. 

Refill your water in lunch/food stops if they are not included in the package. 

Get your guide to buying from the local shops for reasonable pricing. 
For a trek lasting around two weeks in the Nepalese Himalayas, the Manaslu Circuit trek provides the best value for your money. As a majestic region known for the authentic experience and fantastic mountain trails that a traveler dreams for, one can't simply complain about the delights received for the cost. Enjoy the snow-covered natural paradise with patches of traditional settlements on your Manaslu Circuit Trek.