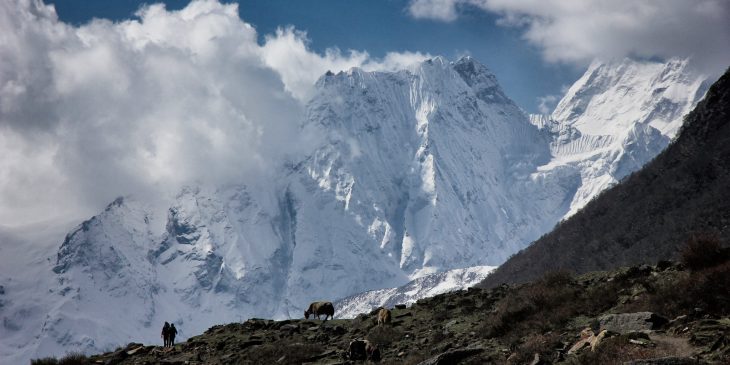 Manaslu Circuit Trek
Best known for beautiful trails and off-the-beaten experience, Manaslu Circuit Trek is an adventurous walk circumventing Mt. Manaslu, the 8th highest mountain peak in the world. It is a perfect escapade for hikers who wish to idle away solitary moments in the secluded areas of Nepal. Impressive Tibetan villages add traditional charms during this incredible trek. The awe-inspiring vistas of the Himalayas from different places on the trek provide a soothing time-out to trekkers. Larkya La Pass and the Pungyen Gompa are something to watch for while treading through highland settlements of Samdo, Samagaon, Tilije, Syange and many among others.
Manaslu Trek is, in fact, a unique trekking destination in Nepal that was opened to foreigners only in 1991. As of now, not many trekkers are seen passing by the remote corners of the Manaslu trekking route. Each year there is a gradual increase in travelers those that are heading towards the restricted Manaslu region. It is no surprise that the far-flung trekking destination is receiving an alarming increase in the number of trekkers. The reason behind the startling increase in visitors is because most of the area is still remote and unexplored. Besides, the trails are very scenic and travelers enjoy the quietness and feel safe about not having fallen into some kind of a tourist hoax.
Trekking Solo in Nepal: Facts
When it comes to trekking solo in Nepal, there are no issues in the regular trekking destinations which are not restricted areas. These areas include the Everest region, most of the Annapurna region trekking, Langtang region trekking, and a few others. Trekking in the non-restricted areas of Nepal is quite a commonly practiced adventure especially for those visitors who have already trekked in Nepal earlier. Solo trekking in Nepal has advantages and disadvantages as well. Apart from giving the freedom to walk at one's own pace without any tight schedule, traveling solo is cost-effective too. The money to be paid to the trekking guide and the porter can be saved by a trekker. In addition, trekking solo will help trekkers tackle all sorts of problems and gain outdoor skills. Finding a hotel to spend a night, choosing their own food, finding their own trekking trail, and making decisions all alone will make a trekker more confident.
While there may be several advantages to trek alone, there are certain limitations too. Trekking alone in the Himalayan trails for too long can bring a feeling of loneliness. There are chances that trekkers get side-tracked from the trails and get lost in the wilderness. There is no one to carry the backpack or other loads of a trekker while hiking alone. If one gets sick or injured during the trek, there is no helping hand around. There may also be possible attacks of human and wild animals while trekking alone.
Trekking with partners or trekking solo in Nepal?
Solo trekking is legal and allowed by the government authorities of Nepal except for some restricted areas. Although a majority of trekkers travel in groups or at least find trekking partners, there are some who want to trek solo. Sometime back around in 2012, talks were on for outlawing solo trekking in Nepal by the tourism ministry of the government of Nepal. The talks never seemed to materialize till now and the probable ban for solo trekkers was held back even till the present day. Some advantages and disadvantages of trekking solo in Nepal have already been mentioned earlier in this article. 
Now, without much significance of whether solo trekking is prohibited or not, finding trekking partners or joining small groups for trekking in Nepal is good for several reasons. Above all, finding a trekking partner is a safer option rather than wandering all alone in solitude. However, when trekking solo on the popular trails like the Everest Base Camp Trek or Annapurna Base Camp Trek, there is nothing to worry about being alone. There will be plenty of hikers along the trails and the teahouses. When a solo trekker meets another solo trekker on the trail on in the teahouses, there is a possibility for them to patch up and share the whole trekking adventure further on till the end of the trip. Walking together for some days could become more fun and one doesn't have to walk for 5 – 6 hours without talking to anyone. 
On a more positive surface, it is always good to have a trekking partner. Anything is possible while traversing on the Himalayan trails. Everything is unanticipated during the trek such as twisting an ankle, sudden elevation sickness or other risks. It is therefore very safe when trekkers are out with a partner; it may in many ways prove to be life-saving. Those who wish to trek solo in Nepal but are looking for a guide, it is a wise bet to share the guide cost with other solo trekkers. Sharing the guide will decrease the trip cost for each solo trekker. 
On the other hand, for all trekking destinations within Nepal that are restricted areas, trekking solo is not permitted by the government. In such regions, restricted area trekking permits are required and trekkers must travel through a licensed tour operator, accompanied by a guide. Some of the restricted area trekking destinations of Nepal are Upper Mustang Trek, Manaslu Circuit Trek, Upper Dolpo Trek, Kanchenjunga Circuit Trek, Nar Phu Valley Trek, Tsum Valley Trek and several others. 
Thoughts on Trekking Partners or Solo Trekking in Nepal
No matter who recommends you, it is never our suggestion to fellow trekkers to go out on solo trekking in the Nepal Himalayas. As said over and again, trekking with a partner or partners is expected to be more fun due to several reasons including one related to safety and well being. Trekking alone in the immeasurable and hardy mountainous terrain of Nepal surely is prone to safety issues. Trekkers need to do a background check before heading out alone in the remote areas. In the past, numerous hikers have disappeared in the trekking routes of Nepal, even in some of the most popular trekking trails. Natural accidents and unforeseen weather hazards could instigate the risk factors of getting oneself physically harmed. In worse cases, a hiker may go missing while rambling alone due to the unfamiliarity of the mountain trails. 
As a responsible trekking outfit, we always make sure to advise our fellow trekkers to do their homework in finding and hiring an experienced local guide. At the same time, company background check is equally important – especially if the company is registered with the government of Nepal or not.
Planning a solo trek
Some of the most traversed trekking and hiking destinations in Nepal such as Everest Base Camp Trek or the Annapurna Base Camp Trek can be embarked by a solo traveler without any complications. However certain trekking destinations in Nepal such as the Manaslu Circuit Trek, Kanchenjunga Circuit Trek, Upper Mustang Trek, Upper Dolpo Trek or the Makalu Base Camp Trek require restricted area trekking permits. Nepal does not allow solo hiking in the restricted areas due to their being considered too treacherous. However, solo trekkers can hook up with each other, at least to acquire the special permits for these areas, and enjoy one or all of these hiking areas. 
In instances when a hiker is unable to find a partner, trekking agencies help them out by acquiring the permits for two people. Usually, the second permit is known as 'ghost permit', and is very easy to obtain. 
Planning a solo trek in Nepal should be done very cautiously, especially when the plan is targeted at a restricted area, more so in the remote off-the-beaten-paths. Although going solo, hiring a guide is highly recommended in terms of security and a sense of local knowledge. Walking on the most popular trails in Nepal, on the contrary, does not require a guide at all as the trails are always jampacked. A happy-go-lucky hiker can always follow other people to reach the destination. But, trekking in remote corners of Nepal does not see many hikers on the trails making the route silent, secluded and unsafe from animals. 
Tried and tested hikers know the ins and outs of trekking in Nepal, so there shouldn't be any problem for them. However, for first-time hikers things could go off course right from the beginning. To help them, we suggest them to visit travel forums or inquiry pages of some good agencies in Nepal and lookout for a suitable partner. Site owners and business professionals have provided space for trekkers in their websites to leave their message. Most of the trekkers find partners online on these forums and begin planning their trip instantly working out for preferred dates.
Solo Trekkers joining groups
From the profound research works and analytics, we have found that most solo trekkers post their preference on some travel companion sites. These sites are created just for the purpose of allowing solo trekkers to meet up and trek together. The most visited travel cohort sites to look up for trek partners are:
trekinfo.com

trekkingpartners.com

trekbooking.com

bookmundi.com
In these sites, it is possible for a trekker to see what has been posted and also possible for him to post something of his preference. Who knows who gets lucky because there may just be someone looking around for a partner. It may be hard and not always possible to find other trekkers looking out for a partner like you. However, if you manage to get hold of someone at the last moment for trekking to Manaslu, Dolpo, Upper Mustang, Kanchenjunga, or Tsum areas, you will have to begin planning your trip with some reputed trekking agencies in Nepal. As the restricted areas require special permits for entry, it is mandatory for every trekker to register themselves through some local company and a professional guide. 
Finding off-the-cuff trekking agencies who provide services in the restricted areas in Nepal is not as easy as trekking in the Annapurna region. Nature enthusiasts and adventure lovers who are ready to spend extra dollars for doing exclusive treks usually plan things ahead. Unlike other short and easy treks in Nepal, it is not just enough to hang around in Kathmandu and wait for someone to turn up and wait for something exciting to come up. Getting in touch with some recognized organizations will work better as they may have fixed group departures which have not yet been filled up. There might as well be some private groups waiting to accept some outsider traveler in the hope of bringing down their own cost of trekking in Nepal. Even if the agency does not run the particular trek, there is a possibility for them to send you to another company in their network who run the trip.
For the most popular trekking destinations such as Everest or Annapurna regions, a solo trekker usually meets up with another one while traveling to the trailhead. While some meet on the airplane or public transportation, some meet at the permit-issuing office or even meet and befriend after a day or two of walking. It is not the same case for trekking in the more remote and lesser-traveled destinations – without placing a notice or an advertisement on a social platform, partners are hard to find unless your agency arranges it for you.
What is required for finding a trekking partner?
As a solo trekker, if you are looking for a partner to accompany you on the Manaslu Circuit Trek, we ask you to provide the following information. The requirement of other agencies could, however, be different from what we ask:
The approximate or actual date of arrival in Kathmandu.

The approximate or actual date of departure or onward journey from Kathmandu.

Personal information such as full name, gender, age group, and country of origin.

The number of days of the

Manaslu Circuit Trek Itinerary

as your preference.

Your personal preference on the trek, such as guide and porter requirement, permits, transportation, food, accommodation and so on.

Your fitness level, physical and mental condition, any previous hiking experience, etc.

Any other personal requirements or services that you would like to avail from us.
Conclusion
Manaslu Circuit Trek is increasing its popularity as the other scenic destinations are being exploited with heavy crowds and road constructions. Manaslu, however, has been intact so far and is still considered as one of the most scenic adventure destinations in Nepal. A restricted area in some far-flung spots of remote Nepal, Manaslu region's most areas are still unexplored and unharmed by modern lifestyle. For foreign visitors, it is still a restricted area and special permits are required of them to make entry to the wilderness sectors. As mentioned earlier in the article, foreigners are not allowed to trek solo in these areas. They are required to acquire permits through a registered trekking agency with a mandatory obligation of a trekking guide. So the possibility of a single trekker to trek to Manaslu is to purchase a ghost permit, that is, paying for himself and another imaginary person so that the government issues permits to the area accordingly. 
The idea of trekking alone can be very tempting for some hardcore aficionados. What could be more fortifying that squandering some time all by yourself in the middle of a stunning landscape? What could be more soothing for a tranquil traveler being in a remote highland complimented with gushing rivers, deep canyons, and silent valleys? In a nutshell, hiking solo could obviously be a pleasurable experience to some. However, one should not exaggeratedly idealize the whole idea of rambling alone. There are more than a few ideal reasons why finding a trekking partner proves to be an incredibly prudent verdict. And this goes for those newbies or novice travelers who are comparatively less experienced or just unknown with the trekking trails in Nepal.