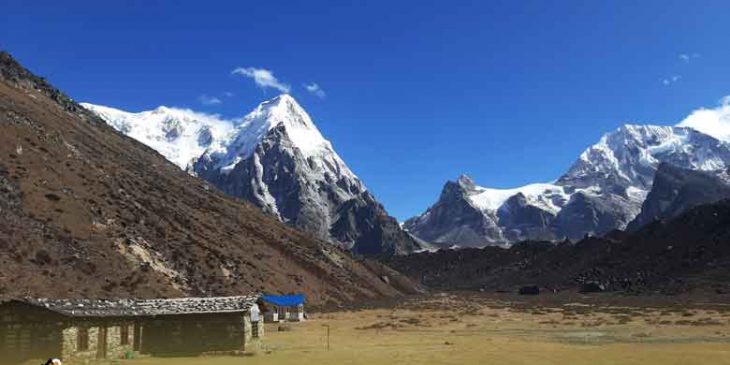 Kanchenjunga Base Camp trek is undoubtedly among the best balanced Himalayan trails of Nepal. From the lower hills to the base of majestic Kanchenjunga itself, this trek takes travelers through some magnificent destinations. Taking you to the easternmost tip of Nepal, the trek is also the combination of adventure-packed trails, beautiful landscapes, and breathtaking views.
Although not much talked about like the Everest or Annapurna trekking regions, Kanchenjunga is a beauty left for the seekers of wilderness and peace. Trekking in the fantastic Kanchenjunga Conservation Area gets closer to the local lifestyle, flora, and fauna of the region. Here, we have the professionally planned Kanchenjunga Base Camp Itinerary with other significant attributes of this wonderful trek.
Kanchenjunga Base Camp Trek Outline itinerary
Different itineraries can also be made depending on the trekking experience and time of stay in Nepal. These itineraries in the Kanchenjunga region can last anywhere from 19 to 28 days. Some might only include the northern or Pang Pema base camp and you have to be aware of that. For a complete Kanchenjunga base Camp trek experience, it must have few acclimatization days as well as spread walking distance and duration. Similarly, the inclusion of both the base camps (north and south) is very important. Taking all those under consideration our professional team has here the ideal itinerary for you. Here, are the outline Itineraries 
Kanchenjunga Circuit Trek Itinerary 
Day 01:   Fly from Kathmandu to  Bhadrapur (30 mins) Drive to Ilam (3 hrs)
Day 02:   Drive from Ilam to Taplejung (6 hrs)
Trek Commences to Kanchenjunga Base Camp from Taplejung
Day 03:  Trek from Taplejung to Chiruwa (6-7 hrs)
Day 04:   Trek from Chirwa to Japantar (5 hrs)
Day 05:   Trek from Japantar to Amjilosa (4-5 hrs)
Day 06: Trek from Amjilosa to Gyabla (6 hrs)
Day 07:   Trek from Gyabla to Ghunsa (4 hrs)
Day 08: First Acclimatization and exploration day in Ghunsa
Day 09: Trek from Ghunsa to Khambachen (6 hrs)
Day 10: Trek from Khamachen to Lhonak (4-5 hrs)
Day 11: Trek to Pangpema/North Base Camp and back (7 hrs) 
Day 12: Trek from  Lhonak to Ghunsa (6 hrs)
Day 13: Trek from Ghunsa to high Camp via Sele La Pass (5 hrs)
Day 14: Trek from Sele La to Cheram via 3 passes, Sinon La, Mirgin La & Sinelapche La (7-8 hrs)
Day 15: Trek from Cheram to Ramche (3-4 hrs)
Day 16: Trek to Yalung/South Base Camp from Cheram and back (5 hrs)
Day 17:   Trek from Cheram to Tortong (4 hrs)
Day 18: Trek from Tortong to Yamphudin (7 hrs)
Day 19: Trek from Yamphudin to Khebang (5-6 hrs)
Day 20: Trek from Khebang to Khandime (5-6 hrs )
End of the fantastic Kanchanjunga north and south base camp trek at Khandime
Day 21:   Drive from Khandime to Birtamod (9 hrs)
Day 22:   Drive from Birtamod to Bhadrapur and Fly back to Kathmandu
This fantastic itinerary to get the complete circuit of both the base camps. Similarly, you do have a selection of two other trails to reach either of the base camps separately. It will help you to shorten your trekking period. Here, we provide you the distinct itineraries of the north and south base camp of Kanchenjunga.
Kanchenjunga North Base Camp Trek Itinerary (Pangpema Base Camp Trek)
Day 1:  Kathmandu to Bhadrapur(93 m, 45 mins) Flight drive to Ilam (1548 m, 3 hrs)
Day 2:  Ilam to Taplejung drive (1820 m, 9hrs)
Day 3:  Taplejung to Chirwa (1270 m, 7 hrs)
Day 4:  Chirwa to Japantar (1500 m, 5 hrs)
Day 5:  Japantar to Amjilosa (2390 m, 5 hrs)
Day 6:  Amjilosa to Gyabla (2751 m, 6 hrs)
Day 7:  Gyabla to Ghunsa (3430 m, 4 hrs)
Day 8:  Acclimatization Day
Day 9:  Ghunsa to Kambachen (4055 m, 5 hrs)
Day 10:  Kambachen to Lhonak (4810 m, 4 hrs)
Day 11:  Day Trip to Kanchenjunga North Base Camp (5300 m) and back (7 – 8 hrs)
Day 12:  Lhonak to Ghunsa (3430 m, 7 hrs)
Day 13:  Ghunsa to Amjilosa (2390 m, 6 hrs)
Day 14:  Amjilosa to Tapethok (1380 m, 6 – 7 hrs)
Day 15 : Tapethok to Mitlung (921 m, 7 hrs)
Day 16:  Mitlung to Taplejung (1820 m, 4 – 5 hrs)
Day 17:  Taplejung to Bhadrapur drive (93 m, 10 hrs)
Day 18:  Bhadrapur to Kathmandu (Flight 45 mins)
Kanchenjunga South Base Camp Trek Itinerary (Yalung Base Camp)
Day 1:  Kathmandu to Bhadrapur(93 m, 45 mins) Flight drive to Ilam (1548 m, 3 hrs)
Day 2:  Ilam to Taplejung drive (1820 m, 9hrs)
Day 3:  Taplejung to Lali Kharka (1880m, 6 hrs)
Day 4:  Lali Kharka to Khesewa (1960m, 5 hrs)
Day 5: Khesewa to Phumpe Danda (1780m, 6 hrs)
Day 6:  Phumpe Danda to Yamphudin (1692m, 6 hrs)
Day 7:  Yamphuding to Torongding (2340m, 6 hrs)
Day 8:  Torongding to Cheram (3868m,5 hrs)
Day 9:  Cheram to Ramche, trip to Kanchenjunga South Base Camp, (4160m, 3 hrs)
Day 10:  Ramche to Torongding (2995 m, 6 hrs)
Day 11:  Torongding to Yamphuding (2080 m, 7 hrs)
Day 12:  Yamphuding to Khebang (1910 m, 5 hrs)
Day 13:  Khebang to Khamdime (1500 m, 6 hrs)
Day 14:  Khamdine to Bhadrapur (93 m, 9 hrs drive)
Day 15: Bhadrapur to Kathmandu (Flight 45 mins)
Major Attractions Of The Kanchenjunga Base Camp Trek
Many trekkers and travelers consider the Kanchenjunga Base Camp trek as the best way to experience the Himalayas. With so much to offer, trekkers of different expectations can find their travel mojo here. For those still wanting some reasons to select Kanchenjunga above others; here are some major attractions of the trek.
Moderately challenging and an amazingly beautiful trail leading you from the plains to the Himalayas.

Fantastic views of the snow-capped mountains with Mt. Kanchenjunga (3rd highest of the world) standing tall.

A slice of Himalayan culture with diverse ethnic villages and settlements throughout the trail.

Breathtaking landscape views, best for nature and photography lovers.

An opportunity to witness different beautiful flora and wildlife of the region.

Fantastic sunrise and sunset views to start and end your day.

Balanced trekking days with well-situated overnight stops.

A spiritual break with Tibetan Buddhism in the pristine Monasteries, Mani walls, and Chortens of the Kanchenjunga.

Adventure-filled side destinations and hikes for better acclimatization and exploration.

Taste of local cuisine with organic resources every day.

Best off the beaten track trail to upgrade your trekking skills.

A land far from modernization and close to nature, a dream trek for true trekking lovers in the Himalayas.
Kanchenjunga Base Camp Trek As An Off The Beaten Track Trek
So why Kanchenjunga as an off the beaten track trek? Despite being home to the third highest mountain peak of the world, Mt. Kanchenjunga (8586 m) the region is less traveled in comparison to other treks in Nepal. This trail in particular was introduced late and is very much in the developing phase. While walking here you will be using the local trails. The people here have been using this for everyday use for hundreds of years.
Kanchenjunga region has limited but enough accommodation facilities but high-end hotels and lodges are only available in the lower portion. You will have to stay in community homestays and tea houses for most of the trail. Moreover, the upper portion is prone to landslide and you might generally have to change the trail to reach your destination. With all these factors one has to categorize Kanchenjunga Base Camp as an off the beaten track trail. However, with these small challenges over, some amazing delights wait for you at the destinations. Hence, professionals consider this trail to the base of mighty Kanchenjunga as a top-tier trekking path in Nepal.
Kanchenjunga Base Camp Trek: Gears And Equipment
Preparation is also important for any kind of trek in the Himalayas. Trekking gears and equipment for its smooth completion is also significant to acquire before the trek. Always consult your guide for extra essential items. Here we have a checklist for helping you to pack best for the trek.
Basic equipment pack-list
 Water Bottle

 Rucksack

 Sleeping Bag

 Flashlight

 All-purpose knife

 Personal towel

 Sun lotion and Hat

 Polarize sunglasses

 Walking Pole (one or a pair)

 Water Purification Tablets

 Medical kit with some general pills

 Trekking Boots and waterproof socks
Depending on the weather and time of year you'll do the trek here are few other items that you can pack:
Nylon Windbreakers

Gaiters and Crampons

Insulated Clothing

Down Jacket  and Woolen Socks
Kanchenjunga Base Camp Trek: Weather
Weather in the Himalayas can be unpredictable sometimes. Kanchenjunga region lies in the Taplejung district of Nepal. Therefore, you can compare the weather conditions here with the district itself. In the lower half of the region, the weather is pleasant for most of the year. Fantastic for trekking you can enjoy the walk without any complications. As the elevation rises the temperature drops accordingly. As you are closer to the base camp, you can find a snow-covered trail. In the high passes during winter thick deep snow is common. this region receives a fair amount of rain in the monsoon period. Therefore, trekking weather here is ideal during the spring and autumn seasons in Nepal.
Kanchenjunga Base Camp Trek: Food And Accommodation
For food in the trail to the Kanchenjunga Base Camp is simple. Here, you will be introduced to a mix of the local and organic menu. Some popular global additions are also available with it. In the lower portions of the trek and the major villages, you can find a pretty basic menu also including some bakery items as well. However, your options get limited as you hike up to and closer to the base camp. Here you can also find some Tibetan foods. Throughout the trek, you can also try some yak products like meat, milk, cheese, and others made locally. Energy bars are available in some stores while there are enough drinking water resources throughout the trail.
Accommodation in the Kanchenjunga region is basic most being teahouses/community lodges. They also provide food as well. Communal dining rooms are common here. A shared bathroom is also common in most of these places with squat toilets. Hot showers and wifi are also available in some lodges. However, you might have to pay extra for those amenities. Camping treks are also popular in Kanchenjunga and you can plan one for some unique trekking experiences.
Kanchenjunga Base Camp Trek: Permits And Restrictions
You have to trek in a group of at least two or more for the Kanchenjunga Base Camp Trek. A licensed guide is also mandatory as you will be trekking in the rural part of the Nepalese Himalayas.
Permits
Kanchenjunga National Park permit (20$ per entry per person)

Restricted area permit for Kanchenjunga (10$ per week per permit)
You have to show these permits at different checkpoints also with other major documents (if asked) along the trek. You can take these permits for some days longer in case you have to extend your trek in the Kanchenjunga area.
Kanchenjunga Base Camp Trek: Altitude Sickness And Prevention
Altitude sickness is a very possible concern while trekking in the areas ver 3000 meters of elevation. Minor symptoms and acute mountain sickness are also common among trekkers. It might be over with rest and medication. However, some might experience this sickness to the extreme (i.e., HACE and HAPE). In these scenarios, the only solution might be returning to a lower elevation. Your guides will also have proper instructions for altitude sickness and actions to follow after the symptoms. Hence, she/he must be the first person to know about it.
Acclimatization is the best way to prevent altitude sickness. It is a process to give the body enough time to adapt to the altitude. Trekking in Kanchenjunga also sees you gaining over 4,000 meters in a few days. You also might have to follow other measures to better acclimatize your body. Here are a few tips from our medical professionals: –
Tips To Prevent Altitude Sickness
Add acclimatization and Rest days in regular intervals for naturally adapting to a higher elevation.

Drink plenty of water, your body uses more fluid while trekking in higher altitude.

Walk slowly rather than pumping up the muscles while you can. Regular rest and breaks can also help you.

Avoid alcohol and also salty food throughout the trekking interval.

Sleep well and get plenty of rest each day.
How To Reach Kanchenjunga Base Camp
There are 2 ways to reach Kanchenjunga base camp Nepal.
Either from North to south or south to north both are possible via Taplejung.
Flight+Road Route: Take a Flight from Kathmandu To Bhadrapur & then catch jeeps or private jeeps to Bitramoad followed by a Bus ride to Taplejung.