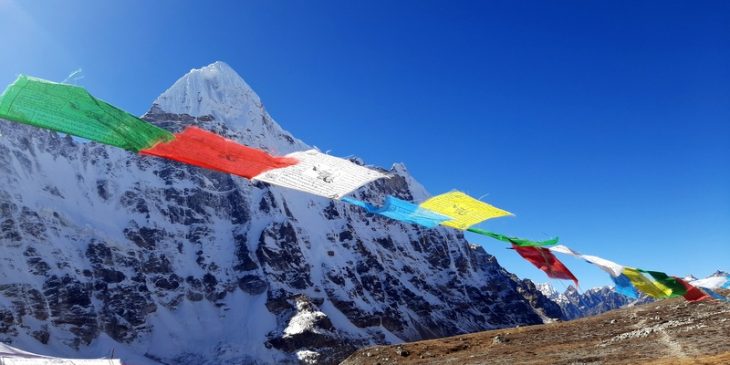 Kanchenjunga is a land of unique experiences only a few travelers have explored. Scenic and diverse, trekking here is a wonderful journey to be a part of it. While there are some things similar to trekking in other Himalayan trails, you might want to know a few extra things before doing the Kanchenjunga base camp trek. From how to trek responsibly here to some tips from our experts, this article will prepare you for the Kanchenjunga trek.
Kanchenjunga is full of surprises. A trek here is magical and challenging as well to some extent. For your next vacation, there is no better destination than to be amid the Himalayas soaking the magnificent landscape and sceneries of the Kanchenjunga area. Step out for an adventure and many stories of delights trekking to the Kanchenjunga Base Camp and beyond. Here are 15 Things You Should Know Before Trekking to Kanchenjunga.
Kanchenjunga Base Camp Trek: Things To Keep In Mind
Kanchenjunga Base Camp trek Is Not Easy
First and foremost, we will like to address the trekking difficulty of the Kanchenjunga Base Camp Trek. It is not in the easy segment of trekking. However, this trail is also not extremely difficult. We consider the Kanchenjunga Circuit Trail as a moderately difficult trek. If you choose to visit only either of the Base camp, the trek is moderate in difficulty.
Trekking in Kanchenjunga might take you from 2-4 weeks. This also makes the trek more difficult than shorter ones. Similarly, being off the beaten track trail, it is less populated. There are also far and few settlements once we go to the higher elevation. Taking all these into account, one must only trek with a local guide making the trek somewhat safer and easier. Our suggestion, do some warm-up hikes or shorter treks for physical wellness for the Kanchenjunga area.
Base Camps And The Trails Taking You To Them
Trekking to the base of the third highest peak of the world, Mount Kanchenjunga (8586 m) is no child's play. The trails here are not similar to that of other popular trekking regions in Nepal. Most trails are the same that the locals have been using through centuries. A few also are newly constructed for trekking here. Similarly, there are a couple of re-routes due to the monsoon landslides in this area.
So, how to know your trail? Well, easy for you as the local guides are more than equipped for the same purposes. Always choose a professional and experienced one to cruise you through the Kanchenjunga region. Different trails take you to the north base camp of Kanchenjunga; the south as well. Yalung Base Camp and Pangpema follow a different path while both starting from the same point. Make sure your guide is up to date with the trail conditions and everything will go smoothly here.
Know Your Itinerary
The itineraries for the Kanchenjunga Base Camp Trek can vary according to your needs and fitness. You can also customize these. However, if you want a smooth trek, stay put to the itinerary once the trek commences. With your guide, you can manage each day here. Hiring professional trekking planners is also a wise idea. Once you have a final itinerary plan your preparation, rest, and permit days for the treks. After all, these are completed and thoroughly follow the itinerary you have made.
One must not completely leave the possibility of different complications that can arise during the trek. You can come across bad weather or other problems. Due to this, it is always better to spare a couple of days off for flexibility reasons. Acclimatization days are also important in the Kanchenjunga Base Camp Trek
Accommodation And Other Facilities Around Kanchenjunga
Now the real talk starts. Kanchenjunga region has lesser facilities and lodges to stay in comparison to Everest and Annapurna. However, this acts much like a boon here. The local hospitality is special as the guests are welcomed as families rather than money bags. You can also spend more time with the locals. Small teahouses and lodges are more common here. Trekking in Kanchenjunga gives you clearer insights into the lifestyle of the mountains.
The food here is organic and made with love. Electricity is almost available in every stop and settlement. Solar power energy is also popular in these regions. You will even get WIFI in some selected few big villages. It's amazing what this place has for travelers even in the rural ends of Eastern Nepal. If you want to get experienced trekking in the real Himalayas, Kanchenjunga is best suited for you.
Beautiful And High Himalayan Passes Of Kanchenjunga
Passes in the Himalayas are some of the best spots for enjoying the views of snow-capped mountains. Throughout the trail there lie many high and low passes. Three beautiful passes will be on your trail if you are doing the Kanchenjunga circuit trek. While heading towards the south base camp from the north (Pangpema) base camp you will trek through:-
#Sele La Pass- Sele La Pass at an elevation of about 4580 meters. It is the highest of the three passes on the way to Cheram. The PangPema Base camp area and the northern face is Kanchenjunga Massif is beautiful from Sele La.
#Mirgin La Pass– Close to the Sele La pass is Mirgin La at 4480 meters of elevation. The trail is somewhat steep to reach the pass here. The views of the landscape are magnificent in clear weather from the Pass.
#Sine Lapcha La Pass– Although on a lower altitude than the other passes Sinelapche La gives magical views of the Kanchenjunga peak. This pass is also known locally as Sinelapche Bhanjyang. The drop is easygoing to Cheram from here with a small beautiful lake on the way.
You'll do these passes in a single day so planning is important for managing the long climbs and downhill walks. Start early and catch the sunrise from one of these passes for more amazing results.
Side Trips In Kanchenjunga Base Camp Trail
Side trips complete any trek. To the main destination, it helps to add checkpoints for something extra. These destinations are also local favorites. Travelers discover some hidden gems in the mountains through these secondary trips. Side trips also give your body the necessary time to acclimatize to a higher elevation. Here are three major side trip stops in the Kanchenjunga Base Camp path.
Ghunsa Side Trip
Ghunsa is the economic center of the upper Kanchenjunga region. The village is also popular for modern lodges and facilities. At an elevation of about 3500 meters, Ghunsa is perfect for the first acclimatization break. Ghunsa Monastery and Nupchu Pokhari are the main side trips from the village.
Khambachen Side Trip
Khambachen is a beautiful place to rest and explore. You have many options for short and moderate side trips from here. The trips to Nupchu Khola Valley and Jannu Base Camp are the most amazing of many. Similarly, the views of mountains and glaciers are majestic from here.
Yamphudin Side Trip
The trip to Timbung Pokhari is one of the best side trips from Yamphudin. You can also admire the natural side of the trek from a brief exploration around Yamphudin.
Apart from these, you have other popular trips before starting the trek like Ilam exploration and Pathibhara temple hike.
Main Dos And Don'ts For Trekkers
Dos
– Carry the required amount of money in cash.
– Pack light and avoid overpacking for the trek.
– Minimize or avoid alcohol consumption throughout the trek.
– Respect the local culture and beliefs.
– Ask for your guide or locals if you need any help.
– Carry extra batteries with you of your cameras.
– Rest and walk rather than pushing too hard.
Don'ts
 Litter or pollute in or around the trail
 Hesitate to pack the necessary equipment and gears for the trek.
 Randomly enter monasteries or other traditional sites.
  Wander around the conservation area without your guide.
Bargain with the local business in higher elevation as the price is relevant to the location.
 Disturb the locals or other fellow travelers.
Preparation And Research Is Required For Best Results
Kanchenjunga trek requires much research and preparation. You might prepare your body for walking in higher elevation through mock-up hikes and exercises. A good diet helps as well. For beginners, these points are very essential. As for the veterans of trekking in the high elevation, be sure to warm up for eliminating any difficulties.
The second step of preparation revolves around packing and planning for the trek. Pack light but sufficient. You can also ask your guides/tour operators in this regard. Once in Nepal, you can recheck all these stuff and be ready for the magical Kanchenjunga Base Camp Trek.
Spiritual Breaks In The Shrines And Monasteries Of Kanchenjunga
Kanchenjunga region is home to diverse religions and ethnicities. You will find yourself in some of the most enchanting monuments in this trek. Trekking in the lower regions you can find small and big Hindu as well as Kirat shrines. From centuries-old temples to community shrines, you will have a wonderful time. Taking a peek at the local religion you can also share some stories and beliefs here.
To the higher elevations, Tibetan Buddhism is a major religion. You will walk through many beautiful monasteries, wonderful Mani walls, beautifully placed Chortens, and more. The prayer flags also dominate the sky here. With the fresh breeze of the mountains, travelers can also have a spiritual break in the Kanchenjunga region.
Altitude Sickness
Altitude sickness is a probability for trekkers in Kanchenjunga. Above 3000 meters any trekker can have some symptoms of it. One can also get severe illness and heading back to lower elevation might only be their option. Here, are some tips for better acclimatizing in Kanchenjunga Base Camp trek:
Kanchenjunga Base Camp Trek: Tips To Avoid Altitude Sickness
Drink plenty of water. It is very important to hydrate your body frequently.
Get enough sleep and rest. Your body also needs to recover through every day of the trek.
Eat a balanced diet and avoid over-salty foods.
Avoid alcohol or at least try to minimize its consumption in higher elevation.
Warm-up your body with brief walks and exercises every morning.
Set up acclimatization days with hikes to a higher elevation. Breaking long walking days are also important.
Try walking slowly and steadily without rush and over-exertion.
Take pills if necessary.

Major Things To Do Besides Trekking
Apart from trekking, you can also do different other activities in the Kanchenjunga region. Some of them are: –
Photography
 Exploration and sightseeing
 Yoga and meditation
 Food tasting (Tibetan and Nepalese Cuisine)
 Downhill cycling
 Trail running
 Wildlife and flora exploration
Kanchenjunga After The 2015 Nepal Earthquake
Taplejung lies in the north-eastern Tip of Nepal. Hence, the Kanchenjunga region is quite distant from the epicenter of the 7.8 Richter earthquake of 2015. The damage is not as severe as other places in Nepal from that earthquake. Few cracks in the older structures are repaired and rest assured is good as before. Therefore, you can trek carefree in the region without any long-lasting effect apparent from the earthquake.
Festivals Of The Kanchenjunga Region
There are many small and big festivals that the locals celebrate in the Kanchenjunga region. Some of them are Kirati while others are Tibetan Festivals. In the lower regions, Udhauli and Ubhauli festivals are celebrated in Kirat communities (Rai, Limbu, Sunuwar, and Yakkha). Lhosar and Buddha Jayanti are the major festivals of the Buddhist people here. Apart from these some locals also celebrate national festivals like Dashain and Tihar here. On every occasion and celebration, the communities come together and share joy and happiness. For a bonus, you can try to plan your treks during these festivals in the Kanchenjunga region.
Kanchenjunga Trek: Trekking Permits
You must have permits to trek in the Kanchenjunga Conservation Area as well as in its restricted regions. Similarly, all trekkers must have a TIMS card to trek in the Nepalese Himalayas. The details for these permits are:-
Kanchenjunga Conservation Area Entry Permit (KCAP)
– 2,000 rupees (18$) per person
Kanchenjunga Restricted Area Permit
-10 USD per week per person
Always Prepare For The Possible Turn Of Events
Even with every good preparation things can sometimes go south during the trek in the Kanchenjunga region. The weather can be unpredictable which might result in postponement or cancellation of the trek. Make sure your travel insurance covers that. Apart from this some health factors or natural causes might also alter your plans. Always plan and negotiate plan B for these possible turn of events.
With this information and more from us, you can enjoy a great trekking experience in the Kanchenjunga region. Mail us anytime for some expert advice or to plan your next trekking in the Himalayas.