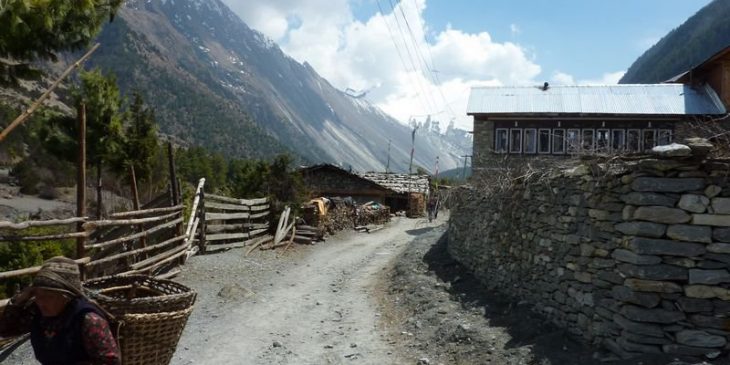 What is a teahouse?
Before picking out some interesting facts about the teahouses on the Annapurna trekking route, let me bring out the meaning of a teahouse in its real sense. The Merriam-Webster dictionary defines a teahouse as a public house or restaurant that sells tea along with other light refreshments. Teahouses widened around the world as the consumption of tea became trendy. Teahouses of different countries have specific purposes varying widely depending on the culture and geographical location. In China, a teahouse is very similar to the American café while Japan has two traditional types of teahouses. In the UK, teahouses are small tea rooms or restaurants that serve beverages and light meals. Likewise, teahouses in the US, Australia, Middle-East, Tajikistan, Egypt, Czech Republic, and Slovakia have peculiar layouts serving different purposes.
What is a Himalayan teahouse?
'Bhatti' should be the direct translation in Nepali for a teahouse. Bhatti is a small hotel that offers a place to sleep and eat home-cooked meals in most of the trekking routes of Nepal. Normally, teahouses are local lodges where trekkers get to sleep and eat at the end of a day's trek. They are places to rest, dine and sleep on the trekking journey in the Himalayas. One needs to understand that the name 'teahouse' does not go by its literal meaning, these days. They provide much more services and facilities rather than just serving you tea. Although teahouses vary to some extent from one region to another, most of them are stone and wooden houses. They have a spacious kitchen, a common dining hall and bathroom area, and a few basic rooms to sleep.
While most of the teahouses at lower elevations provide many facilities, but those at high altitudes may have only limited services. That too, at comparatively higher prices. Almost all treks in Nepal are "teahouse treks", meaning that a trekker ends up at a lodge with basic room and a simple meal. A teahouse can refer to a large comfortable, well-built lodge with common areas. Some trekking trips are popularly known as "teahouse treks in Nepal" and are widely popular among trekkers. Going on a teahouse trek means that trekkers will sleep in these types of basic lodges with simple rooms and eat simple food.
Food and accommodation are the most important needs in the mountains while trekking, and Annapurna trail is no exception. Known to travelers as teahouses, these mountain shelters are a welcome sight after a hectic day of walking the rugged trail. In fact, one may find a lot of facilities including hot showers, internet connectivity, charging facilities, laundry, and so on in one of these fancy teahouses. Not just on the Annapurna trail, but teahouse on the Everest Base Camp trek and Manaslu Circuit trek have similar features. These are some interesting facts and useful information to get fruitful insights into the teahouses on the Annapurna trail prior to your trekking adventure.
Also Read : why to do the manaslu circuit and tsum valley trekking
How do the teahouses look like?
A typical teahouse on the Annapurna trail looks like a traditional house in which the local people live. At lower altitudes, most teahouses are multi-story concrete buildings while a few of them are 1 to 2-story houses occupying a wide area of land. These teahouses have several private rooms and a big communal dining hall. Standard teahouses won't have attached western style bathrooms whereas the luxury teahouses have such facilities. The National Trust for Nature Conservation (NTNC) superintends the teahouses in the Annapurna region.  These teahouses must meet identifiable prerequisites including pricing, customary menus, and confines on the number of teahouses allowed to be constructed along specific routes.
Where are the teahouses available?
Teahouses are available all the way in the Annapurna region regardless of the trekking trail that you tread on. They are easily accessible at pre-determined halting places after a day's trek. These halting places may be the villages such as Deurali, Bamboo, Jhinu Danda, Chhomrong, Tadapani, Ulleri, Jagat, Chame, Pisang, and all other small settlements. The number of teahouses at each village depends on the altitude – the higher you hike, the number of teahouses are fewer.
On a general norm, accommodations in teahouses are on a twin-sharing basis unless you are willing to pay for two persons. Trekkers can expect the teahouses to have a similar setup, usually with two to three twin beds in each room. You need to share a room with a fellow trekker of the same gender if you are trekking with a group on a budgeted trip. However, a single supplement charge might provide you a room with single occupancy, but it won't be quite feasible at all the places.
You can expect the rooms to be basic but clean and comfortable. The beds are generally comfy with a foam pad pillow, and a blanket. It can get very cold at night, so we usually recommend our clients to carry a four-season sleeping bag during trekking. The walls in the room are thin and not insulated, so you can use earplugs for a sound sleep. The bed mattress is not very fluffy, but comfortable enough for a relaxing sleep after a tiring hiking day.
Cost
Generally, it will cost you somewhere between US$ 3 – 10 per night at the standard teahouses depending upon the availability, season of trekking, and the quality of services offered. You should always note that the prices will be affected by the location of the teahouses; higher the altitude of the teahouse, the higher will be the price. A few luxury lodges or teahouses may even cost you up to US$ 150 for the extra comfort that they provide.
Dining area or communal area in teahouses
Most of the teahouses on the Annapurna trail have a communal dining area with either a wood-burning stove or a yak-dung burner at the center for heating the room. It is commonplace for all trekkers to gather during dinner time and socialize, switch stories, get warmed up, eat, sip tea, read books or watch the sunset over the mountains. Due to the influx of domestic trekkers in recent times, the communal room in the teahouses can get overcrowded during high seasons. Sometimes, at the lodges in higher elevations, many trekkers may be seen sleeping in the communal room on an extra cot or even on joined tables due to the shortage of rooms.
Toilets and Showers
Teahouses in the lower altitude of the popular trekking regions are usually very nice and have western-style flush toilets or the more common traditional squat toilets. In the Annapurna regions, many of the teahouses are comfortable that have flush toilets and hot showers. But, hot showers do not come for free, so be ready to shell out some extra cash for your hot water. As you traverse higher into the Himalayas, both toilet and shower facilities become more and more basic. You will need to use basic squat toilet systems and flush it off with a bucket of water. Do not forget to carry a few rolls of toilet paper, a hand sanitizer, and some wet wipes.
For showers, they are normally available only in the lowlands where you may use a pot of hot water, but no one can guarantee you hot water. The practice of using a pot of hot water may not be familiar to you but remember, these are the only facilities available in the trekking route. You are in the mountains on an adventurous trekking to encounter the authentic Himalayan experiences
Electricity and WiFi
Almost all the teahouses in the Annapurna region have basic access to electricity, mostly for the lightning in the rooms and dining area. Owners run most of the teahouses on solar power that provides renewable and clean ways to keep the lights on. They expect you to pay anywhere around USD 2–5 to charge your mobile phones, tablets, eReaders, iPods, and other electronic devices. They will limit access to recharging in crowded teahouses and the cost may be significantly higher in the higher altitude teahouses.
Regarding the internet facilities, most of the teahouses in Nepal now have Wi-Fi services but the connection speed and availability may be erratic, which may slow down further with an increase in the number of users. Wi-Fi usage comes with a small fee and you can expect the outmoded dial-up-like internet speeds. While another option to use the internet service is to pre-purchase data packages in your mobile network and use the GPRS whenever and wherever possible. Some locations have good mobile coverage enabling you to use 3G internet data service at a reasonable speed. Just remember to buy a local SIM card from a local mobile operator in Kathmandu or Pokhara before embarking on your trekking trip.
Teahouse Protocol
If you have booked a full board package with a registered trekking agency, you don't have to worry about your accommodation and meals. It is all included in your package except for your personal snacks and beverages. Yes, pay for all your extra expenses including your phone calls, electronic gadget charging, Wi-Fi usage, and hot showers. Although you need not pay directly for your accommodation, the teahouse owner usually charges a cost of around US$5 from your agency provided that you eat your meals with them. It is with the meals and beverages that the lodge owners make most of their income. They expect you to eat all meals at the teahouse where you sleep for the night. If you defy with the conventional custom and eat elsewhere, the lodge owner may increase his price up to US$10–15.
Food & Drinks at the Teahouses
Nepali tea isn't an ambiguous name in the Himalayas as the first thing lodge-owners will welcome you at a teahouse is with a warm cup of black tea. These days, teahouses on the most popular trekking trails offer many options to choose from the beverages like the traditional tea to beer and an extensive food menu. It may, however not be the same case at the teahouses at much higher elevations. They cook meals in the teahouses over a fire of wood chunks in the kitchen by the lodge owners. In most cases, dinner will be the traditional Nepalese food comprising Dal Bhaat Tarkari, the ubiquitous lentil soup, steamed rice, and seasonal vegetables. Non-vegetarians can eat chicken curry and pickle, which increases your appetite.
The national food Dal Bhaat Tarkari is a perfect power supplier for the trekkers.  The strenuous trekking journey requires energy, and it is available in this food item and is available at the teahouses. Besides the staple Dal Bhaat Tarkari, you can get pasta, momos, and varieties of rice and noodle dishes. These items are available in almost every teahouse on the trekking route. The customary combination is the mixed-vegetable rice or a noodle dish with a choice of beef or chicken. However, we do not recommend eating any meat dishes after Chame in the Annapurna region. You can also expect from some teahouses to serve you basic cheese and vegetable pizzas, garlic soup, omelets, and chapattis. While some dishes are ready in a jiffy, it takes a longer time to prepare some other items. So, always check what is available and fresh.
Trekkers may get sick on the trail because of food reasons. So, we suggest you eat only those items that are fresh. Trekkers can buy some snacks to have instantly or save for the following day's trekking journey. You can have chocolates, potato chips, hot beverages or cold drinks including beer. It is not surprising that the food cost increases as you get higher and higher. Be ready to pay that extra dollar for the same food that you had eaten at teahouses in lower elevations. It is all because of the logistical intricacies and high transportation costs. The teahouse owners pay a high price to the porters who ferry almost all items up for several days. The teahouse owners will add the transportation costs to the food and drinks that you consume during your trekking.
Below mentioned is a list of the food items that you can expect to order in a distinctive Nepali teahouse:
Breakfast:
Tea, coffee, hot chocolate, milk or fruit juices
Boiled eggs/Omelets/Poached or Scrambled eggs
Bread toast/butter toast/jam toast
Muesli/Tsampa porridge
Chapatti/Tibetan bread
Pancakes
Hash brown potato
Crepes
Lunch/Dinner
Dal, Bhaat, Tarkari
Pizzas
Momos
Pasta and noodles
Spaghetti, chowmein, noodle soup
Fried rice (vegetable/meat/egg)
Sandwiches
Popcorn/Chips/Potato
Hot soups
Dessert (rice pudding/chocolate pudding/apple or banana fritters
Some Useful Tips To Remember
Teahouse trekking in Nepal is surely a unique experience for all foreign trekkers. It adds to the warm and welcoming generosity found throughout this incredible country. Here are a few useful tips for preparing for your Nepal teahouse trek in the Annapurna:
Accommodation in the teahouses seems much more secure than camping.
Carry some extra money to purchase your energy bars, candy bars, beer or other snacks.
Your luggage and belongings will be safe and protected inside the teahouses.
Carry with you a good pair of earplugs as the plywood walls of the separating rooms are extra thin. Your neighboring roommate's snoring could disturb you all night.
Teahouses will serve food on time and make sleeping arrangements will be so you need not make your bed.
Fleece pants and comfortable sandals are very crucial to relax in after a day's hike–don't forget to pack them!
Washing machines are not available in the teahouses– prepare yourself to do some washing on your own.
Carry a portable solar light with you as it will be very handy if the electricity goes out.
Playing cards and reading books are great ways to pass time. When you arrive at your teahouse much earlier than anticipated, there is nothing else to do. So carry a pack of cards and a couple of good books to read during the afternoons.
Conclusion
The best way to experience trekking along the Annapurna routes is undoubtedly by staying at the many teahouses. These teahouses line up along the routes between villages. Initially, the teahouses were meant to provide tea to the trekkers while resting for a while amid their trekking trip. Later on, these teahouses developed into full-fledged lodges where trekkers could sleep for the night and eat home-cooked food. Whether it is Annapurna or Everest, Manaslu or Kanchenjunga, the local people and their families own and manage the teahouses. So when a trekker eats and sleeps in these teahouses, they are indirectly contributing to the local economy. By staying at the teahouses, trekkers enjoy rare glimpses into the culture and lifestyle of the people of rural Nepal.
As mentioned earlier, the standard of the teahouses and the consolations they offer vary with the location. Perhaps nothing gets you over an intimidating mountain high pass like the assurance of a home-cooked meal. And there is nothing soothing like falling asleep after a tiring day's walk. Falling asleep to a panoramic exhibit of snowy mountain peaks from your bedroom window. No matter what, teahouse trekking is meant for the audacious, inquisitive and open-minded travelers. For many, it could be a bucolic experience far from the ease and flounces of modern urbanity. In the present context, visitors have the golden opportunity. An opportunity to take a plunge in the culture and customs of the local ethnicities of a handful of nations. We perceive and accept as true, for Nepal to be such a place!