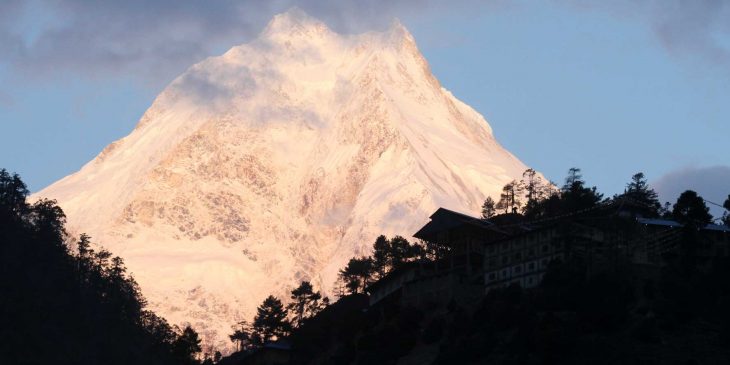 Why to do the Manaslu Circuit and Tsum Valley Trekking is one question that pops up in every trekker's head before hitting the roads. It is obvious that getting familiarized with the route you're about to tread on will provide an insight about the entire trail. Moreover, it will assist trekkers to be mentally prepared with the encounters they will be anticipating. Previously, trekkers used to do a single trip while visiting Nepal. However, in recent times, a majority of them aspire to combine several trips on the same route. The reasons incorporate financial constraints, extra vacation days, and several cost-effective grounds. We have endeavored to put in plain words as to why a trekker must do the Manaslu Circuit Trek along with Tsum Valley Trek on a single trip. We have slotted in some of the most valuable information regarding the combined trip in such a way that visitors already know what to look forward to during the trip.
Overview of Manaslu and Tsum Valley Trek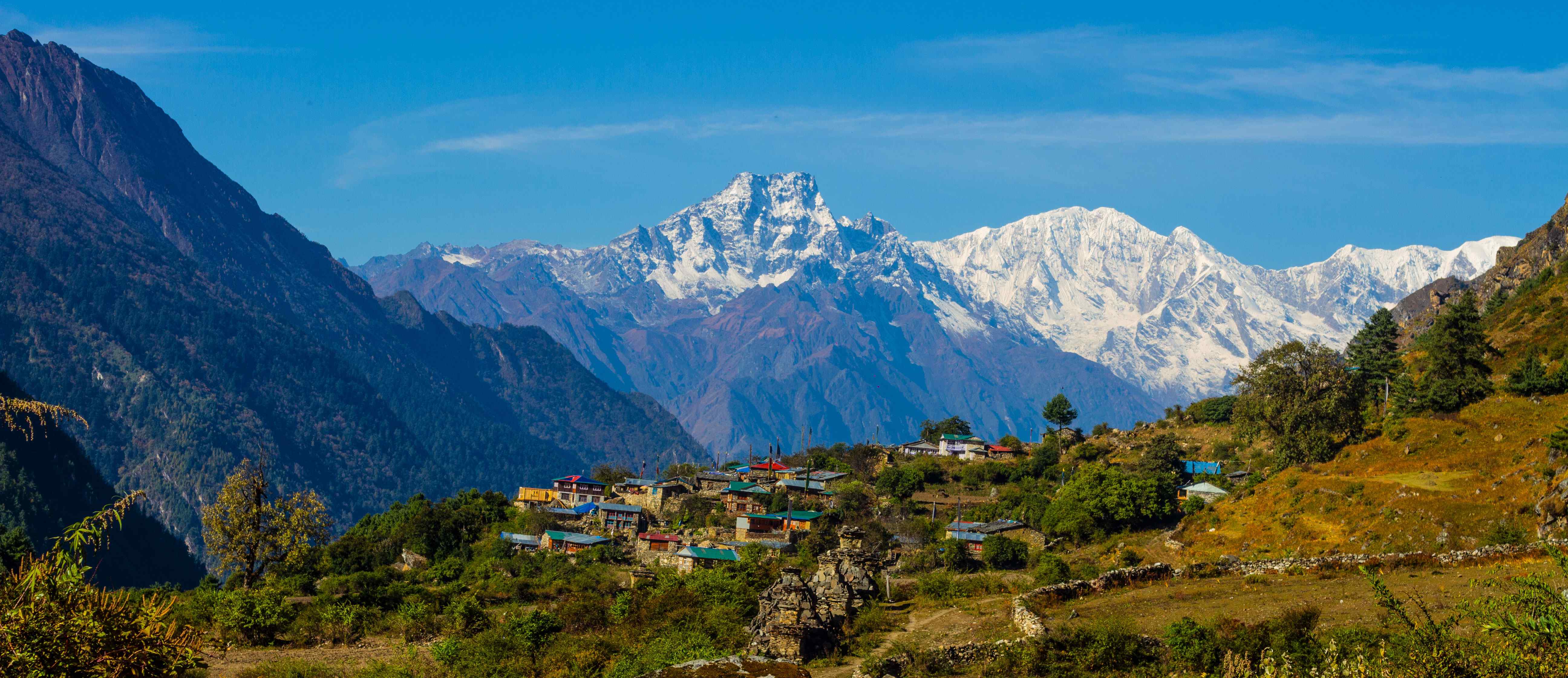 The Manaslu Circuit and Tsum Valley Trekking is one of the remotest trekking trails in Nepal. Although not as old as other popular trekking routes in Nepal, the Manaslu Circuit and Tsum Valley Trek is a delightful journey in the far-flung lesser trekked areas of Nepal. It is a wonderful opportunity to allow visitors to enjoy the ethnically marvelous upland settlements and their cultures. The lush and untamed landscapes on the Manaslu and Tsum valley trails on the premises of the Nepal-Tibet border areas make this trip noteworthy.
Trekking in the Manaslu and Tsum Valley, as regarded by nature and rough-country lovers, is an adventure into the perfect wilderness. Not only adventure, but trekking here is a perfect harmony of pristine natural environment shrouded between majestic Himalayan peaks such as Ganesh Himal and Mt. Manaslu. Moreover, the longstanding culture and ancient legacy of the time-honored lifestyle of the highland habitants is absolutely fascinating. On a combined trip of Manaslu Circuit and Tsum Valley, adventure fanatics get marvelous opportunities to visit numerous lovely villages. Chances to immerse in the unique culture of the native villagers, visiting their traditional monasteries, and understanding their everyday life are abundant.
The Manaslu Circuit and Tsum Valley Trekking itinerary has different variations. Different trekking agencies in Nepal have their own schedules and trekking routes. Some agencies start their trip with a drive to Barpak in Gorkha district, while many drive to Arughat or Soti Khola in Dhading district. Although the Manaslu Circuit and Tsum Valley Trekking route may slightly differ in terms of overnight stays, the experience remains the same. The number of days to complete this awesome trek also differs, ranging from 18 days to 27 days. Accordingly, the Manaslu Circuit and Tsum Valley Trekking cost also has different variations. These disparities depend majorly on the number of trekking days as well as the standard and types of facilities involved.
At Royal Holidays, we have with great efforts, fabricated the most realistic and viable itinerary for our clients. The trip schedule allows sufficient acclimatization time, best available accommodation and food on the trip, and small travel groups. In our trip program, the adventurous journey kicks off with a scenic drive to Soti Khola via Arughat. Progressively, we allow overnight stays after a daily hike of not more than 6 hours with some exceptional days of walking a bit more. During the course of the trekking journey, visitors will pass through picturesque villages like Philim, Namrung, Samagaon, Samdo, Chokhangparo, and several others. The first leg of the trek will take trekkers towards the Tsum Valley. After completion of the hidden valley, the trekking continues towards the Manaslu area. Traversing through the Larkye La Pass and scenic villages like Sho, Lho, Syala, and Bimthang, the adventurous trekking comes to an end at Dharapani.
Set off on the Manaslu Circuit and Tsum Valley Trekking and convince yourself to appreciate the splendor in the vicinity of the eighth highest mountain of the world, Mt. Manaslu. Explore the hidden valley; savor the views of the gleaming Himalayan peaks. Also visit the heritage villages with colorful culture resembling Tibetan Buddhism. Immerse in the religious ceremonial offerings in the remarkable monasteries. Walk along beautiful alpine woodlands filled with rhododendron, pine, oak, juniper, and fir trees. Make your trip a wonderful memory with bountiful of remote experiences in the secluded corners of Nepal.
Manaslu Circuit and Tsum Valley Trekking Itinerary
Day 01:           Drive from Kathmandu to Soti Khola (700m)
Day 02:           Soti Khola to Machha Khola trek (869m)
Day 03:           Machha Khola to Jagat trek (1340m)
Day 04:           Jagat to Lokpa trek (1800m)
Day 05:           Lokpa to Chumling trek (2386m)
Day 06:           Chumling to Chokhangparo trek (3031m)
Day 07:           Chokhangparo to Mu Gompa trek (3700m)
Day 08:           Mu Gompa to Chokhangparo trek (3031m)
Day 09:           Chokhangparo to Lokpa trek (1800m)
Day 10:           Lokpa to Deng trek (1860m) 
Day 11:           Deng to Namrung trek (2630m)
Day 12:           Namrung to Samagaon (3500m) via Lho village
Day 13:           Acclimatization Day
Day 14:           Samagaon to Samdo trek (3875m)
Day 15:           Samdo to Dharamsala trek (4460m)
Day 16:           Dharamsala to Bimthang trek (3700m) via Larkye La Pass (5160m)
Day 17:           Bimthang to Gho trek (2500m)
Day 18:           Gho to Dharapani trek (1900m); drive to Besisahar (760m)
Day 19:           Drive from Besisahar to Kathmandu (1300m)
Manaslu And Tsum Valley Trekking Highlights
Exploration of the lesser traveled trails and the hidden valleys of the Manaslu region
Navigate the fascinating trekking trails on the secluded Tsum Valley
Witness the awe-inspiring views of Mt. Manaslu, Simrang, Hiunchuli, Ngadi Chuli, Ganesh Himal, Larkye peak and others
Indulge in the adventurous trip amid thundering waterfalls and rivers, challenging rocky trails, ethnic villages, high suspension bridges, age-old monasteries, mani walls, chortens, and other Buddhist shrines
Visit the historical Milarepa Cave
Traverse on the challenging Larkya La Pass
Spectacular views of icefalls and frozen lakes from Larkya La Pass
Explore the Ribung Monastery, Rachen Gompa and Mu Gompa
Spectacular hike up to the Pungyen Gompa while acclimatizing in Samagaon
Picturesque tiny villages of Syala, Sho and Lho
Important information for Manaslu and Tsum Valley Trek
The Manaslu Circuit and Tsum Valley Trek is a favorite journey that has been able to fascinate and tempt many nature and solitude lovers. This trip is one amongst the many other trekking destinations in Nepal where travelers are comparatively less. Owing to its difficult terrain and probably very simple and limited accommodation facilities, these areas get to see only a few travelers. Trekking in Manaslu and Tsum Valley areas requires special permits as these areas are recognized as restricted areas.
Unlike in the past years, the Manaslu Circuit and Tsum Valley trekking can be done as a teahouse trekking in Nepal. Lodges, teahouses and decent guesthouses have sprouted in a majority portion of the trekking route. However, at some places the facilities may be very basic with limited food menu and common bathroom. Camping is not required as such, but some travelers wish to do camping trek and sleep in the camps and eat food cooked by their accompanying chef.
We have compiled some of the most important information for all our traveler folks who have placed the extraordinary Manaslu Tsum Valley Trek in their bucket lists. It is our earnest attempt to bring the smallest need-to-know guidelines to our clients. We strive to make their trip comfortable and get them mentally prepared for all the known as well as unknown encounters on the trekking trail.
Required Permits for Manaslu and Tsum valley Trek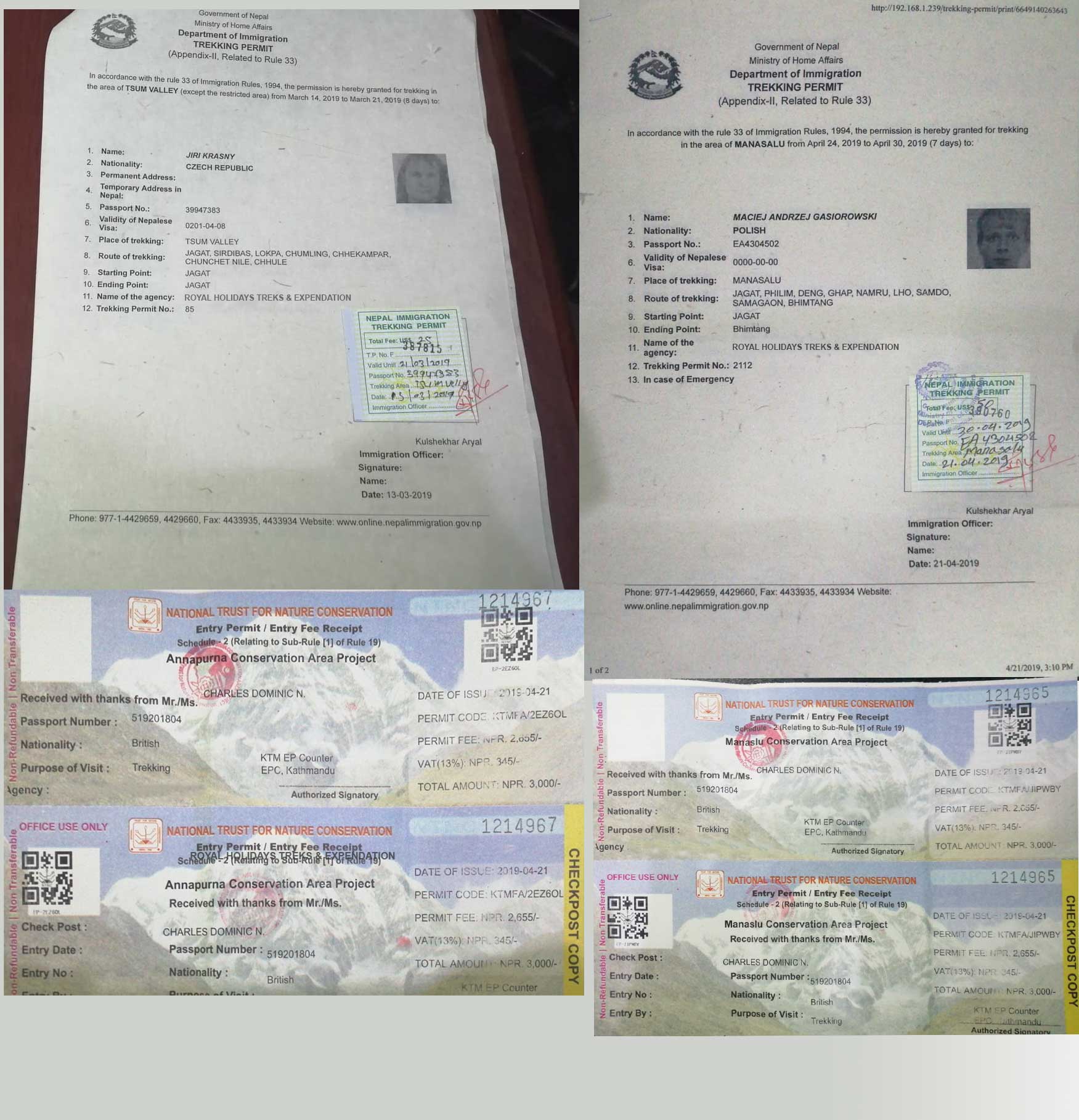 Both Manaslu and Tsum Valley being restricted areas, trekkers must mandatorily purchase Restricted Area Permits. If trekkers wish to continue their trek towards the Annapurna region, they are also required to purchase the TIMS card. The cost of the permits also depends on the number of days a trekker wishes to spend in the restricted areas. The required permits along with their cost during off-season and peak season are provided below:
Manaslu Restricted Area Permit (MRAP)
September to November: US$ 70 per person for the first 7 days and US$ 10 per person for each additional day.
December to August: US$ 50 per person for the first 7 days and US$ 7 per person for each additional day.
Manaslu Conservation Area Permit (MCAP)
All seasons: Entry Fee for foreigners is US$ 30 per person while for visitors from SAARC nations it is US$ 2 per person.
Annapurna Conservation Area Permit (ACAP)
All seasons: Entry Fee for foreigners is US$ 30 per person while for visitors from SAARC nations it is US$ 2 per person.
Tsum Valley Restricted Area Permit
September to November: US$ 35 per person for the first 8 days.
December to August: US$ 25 per person for the first 8 days.
Trekking Information Management System (TIMS)
(In case of trek continuation to Annapurna region): US$ 20 per person.
Accommodation
Trekking in the Manaslu and Tsum valley region used to be camping style when it was first opened for visitors. Due to the development of infrastructure in tourism sector, these areas nowadays have mostly teahouse style trekking. Local people in the villages that lie on the trekking trails have constructed tea-houses, basic lodges, guesthouses and also home-stays with food and beverage provisions. Staying at the teahouses or lodges in the trekking trails, visitors will meet the charismatic local people and enjoy their exceptional hospitality. Two small beds are usually present in a room which is simple, clean and basic. However, attached bathroom and toilet facilities may not be available at the teahouses. The available toilets are very basic and Asian squat style so carrying wet wipes or toilet rolls is recommended.
We highly recommend our clients to carry their own sleeping bags, which also can be hired for rent in Kathmandu. Although the teahouses provide blankets and pillows, it may not be sufficient for you during the cold seasons or they may not be as clean as you expect. Extra blankets are provided on request but lodges at certain places may ask for an extra charge of US$ 2 to 3. Lodges do not have heaters in rooms but during dinner time the communal area might be heated with bonfire or heaters. Teahouses also charge an extra amount for hot water for shower and charging mobile phones or cameras.
Accommodation in Manaslu and Tsum regions is not a problem as they receive fewer travelers and plenty of teahouses have come up in the recent years. The average cost for one twin-sharing room in the teahouses along the trails ranges from US$ 6 to US$ 9 per night. Paying the full amount, you can sleep alone in the room; otherwise it will be shared with another trekker.
Food
Food items in the remote areas are limited unlike at other popular trekking trails. Each teahouse on the trekking route has its restaurant and probably a limited menu. Most likely, the vegetables are grown locally by the area residents so you can have a complete organic diet during your trip. Meat items are not recommended at higher altitudes as they might have been carried from lowlands and the freshness cannot be guaranteed. Teahouses are present only at small villages where you will be staying overnight, so it is better to carry some chocolate or energy bars in case you become hungry while walking.
The most common food available in the teahouses on the trekking route is Dal (Lentil), Bhaat (Rice) and Tarkari (Vegetables). If you order these food items, you won't have to pay for the extra rice, lentil and vegetable meaning you can eat as much as you can. The taste of other food items available on the menu may not just be as you expect.
As expected, the cost of food items in Manaslu and Tsum regions is more expensive than at places accessible by roads. The cost of food items increase as you climb higher due to the logistic charges incurred to ferry the items. On an average, each meal will cost you around US$ 7 to 8, usually US$ 20 to 25 per day. However, the cost of each meal also depends on how much you eat and the variation of items chosen per meal including your beverage. A cup of tea will cost something around US$ 1 to 4 depending on the elevation. Similarly, a cup of coffee will cost US$ 2 to 5, a bottle of beer will cost US$ 4 to 7, and a bottle of water will cost US$ 2 to 4.
Drinking Water
Although bottled mineral water is easily available at lower altitudes, we encourage our clients to use boiled water. We practice responsible tourism and do not want to litter or and pollute our clean environment. Every shop and teahouse along the way has hot water, for which they may charge you nominally. We encourage all our clients to use water purification devices or chlorine tablets to double purify the boiled water before drinking; it also saves money. It is always good to carry one liter of water during the day as there are plenty of water sources to refill your bottle. As your body needs plenty of water at higher elevations, it is advocated to drink as much water as you can.
Washing and Toilet Facilities
Most of the teahouses on the Manaslu Tsum Valley trek offer hot showers; some may levy extra charges for that. Showers can be either in a bathroom or simply a bucket of water. There may not be ample hot water for all trekkers at higher elevations due to the shortage of water. For solely ecological reasons, we always encourage our clients to limit the use of hot water except when the water is heated by solar energy or by firewood. Normally, taking shower at higher altitudes especially during cold months is practically impossible owing to the cold temperatures. Carrying a bar of soap, wet wipes, toilet rolls, and a small towel to clean your face and body is highly recommended.
Toilets in the teahouses are mostly Asian squat style throughout the trekking trail. It is almost difficult to find a toilet or bathroom attached to your room. They are located outside the room with lots of variations in cleanliness due to the scarcity of water; some toilets may be intolerably stinky.
Communication Facilities
Communication in the Manaslu and Tsum Valley regions are still very poor. Not more than 40% of the areas in the trekking route are accessible with communication facilities. There are very poor mobile phone signals on the route. Some teahouses with little or limited connectivity do provide Wi-Fi services to the trekkers for an extra cost. Travelers who wish to carry a Nepali SIM card to use internet services wherever phone signals are receivable – we recommend the NCell 4G SIM. For less than US$ 15, you will be able to purchase a SIM card along with an internet package while you are in Kathmandu.
How difficult is the Manaslu Circuit and Tsum Valley Trek?
The trekking trip involves crossing the Larkya La Pass at 5160 m thereby requiring good physical fitness of a trekker. Due to the long walking days before reaching the higher elevations, Manaslu and Tsum Valley trek has a higher success rate in comparison to other treks such as the Everest Base Camp Trek.
Any person without prior hiking experience at higher altitudes can complete this trek without any complications. However, one should always stay alert and be careful about altitude related hazards. To avoid altitude sickness, we do not encourage our clients to walk at faster pace or drink alcoholic beverages. It is unpredictable as to how a person's body responds to altitude gains. Nevertheless, drinking plenty of water and walking at slower pace with frequent rests en route can avert any sickness related to altitude.
Altitude sickness (also known as Acute Mountain Sickness or AMS) is a condition when there is a change in body. At higher altitudes, the atmospheric pressure drops and the oxygen level in the air also decreases causing difficulty in breathing.  AMS normally occurs above an elevation of 3500m. The various signs and symptoms of the sickness are headache, dizziness, nausea, vomiting, tiredness, fatigue, sleeplessness and loss of appetite.
Trekkers visiting Manaslu regions during winter seasons need to be extra careful of frost bites and snow blindness. Anyone with prior hiking experience and who exercises regularly can do this trekking comfortably. Being perfectly fit and healthy is the key to success.
Best Time to do the Manaslu Tsum Valley Trek
Trekking seasons in Nepal are normally considered the best during spring and autumn. Spring falls during the months between March and May. Autumn season is from September to December. These seasons are the best months to do this adventurous wilderness trek. During the springtime, rhododendron starts to bloom while the frozen lakes begin melting. Villagers who had migrated to lowlands during the winters start returning to their homes. Any sort of snow gears are not necessary during this time of the year. Autumn is arguably the best time to visit the Manaslu region when the weather is neither too hot nor too cold. The skies remain blue and clear views of mountain peaks are visible.
Late December to early March is the winter season. Waterfalls, lakes and rivers are frozen and certain portions of the trails are covered with heavy snow and become risky. The lodge at Dharamsala remains closed thereby increasing the walking time for those who wish to climb the Larkya Peak. Proper technical gear and winter clothes are required during this time of the year. This season is suitable only for those people who are experienced in using ice and snow gear and who possess extra stamina to overcome the possible threats due to the coldness. Likewise, June to mid-September engrosses the summer and the monsoon seasons. The forests and the pastures are washed clean by the rains and appear lush and green. Mosquitoes and bugs may be a point of nuisance at the teahouses while leeches may stick to your feet while hiking. Due to the rains, the trail becomes slippery and small streams become bigger making it impossible to cross the small wooden bridges. Over and above, there are high risks of possible landslides.
Guide and Porter Costs
Trekking in most of the parts of Nepal can be done even without a guide. But there are certain areas recognized by the government of Nepal as restricted or protected areas. Trekking in these areas is permitted by the authorities only if the trekker is accompanied by a licensed guide or through a registered trekking agency. It is also required that a minimum of two trekkers be present in a group while applying for trekking permits.
As opposed to what other international travel agencies might have to say, it is actually not expensive to hire a professional guide. On an average, the cost of hiring an experienced guide is about US$ 30 to US$ 40 per day that includes his food, accommodation, wage and insurance. In the same way, the cost of hiring a porter will cost about US$ 20 to 22 per day. It is also possible to find a trekking guide who will also be your porter, or the other way round. Hiring a porter cum guide will cost you roughly around US$ 25 to 30 per day. He will carry a maximum weight of 15 kg only and you are supposed to carry your own daypack.
As far as security is concerned, we highly suggest our clients to hire an experienced and a licensed guide authorized by the government of Nepal. Owing to the remote locations and high altitudes involved, it is sensible to remain safe at all times during the trek. If anything unexpected comes about during the trip, a highly skilled and experienced guide will be able to tactfully handle the situation with all his practical expertise.
Travel Insurance
It is an important pre-requisite upon joining any of Royal Holidays' trips that all our clients possess their travel insurance. We make sure that our guests are insured for comprehensive expenses that might crop out during the trip. We look forward to your sufficient protection and suggest you to cover for your medical issues or accidents. It should include physical injuries, air ambulance, lost items, liabilities, emergency evacuations or helicopter rescues, and medical ailments. Please note that we do not arrange or sell insurance, so you need to come prepared from your native country. We suggest you to mention all the activities you would be participating while traveling to Nepal to your insurance company. Accordingly, they will provide you a complete travel insurance package.
CONCLUSION
Travelers from all around the world visit the Manaslu and Tsum valley region as much as the other trekking regions in Nepal. There are several fascinating reasons why travelers prefer Manaslu Tsum Valley trekking over other popular trekking destinations in Nepal. One of the prime reasons why tourists are attracted to this part of the country is the wonderful mix of the natural grandeur and the cultural multiplicity of these secluded areas. The region is wealthy in its magnificence with the supplement of secluded and off-the-beaten paths. Fewer visitors are seen in this region which adds to the exclusivity of the trek. Intact Buddhist monasteries, matchless picturesque villages, and adventurous trails across the Larkya La Pass make this trek one of the most beautiful trekking holidays in Nepal.
Trekking in the Manaslu and Tsum Valley region provides a sense of being in actual wilderness and mesmerizes visitors with some breathtaking panoramic vistas. In addition, the very insignificant number of tourists on the Manaslu trail justifies the exuberance of being on the quieter side of the Himalayas. Enjoying the cultural vibrancy and appreciating the artistic monasteries built in the serene localities, travelers are rewarded with the best solitary experiences in the exotic environment. To sum up the chief reasons as to why one should do the Manaslu Circuit and Tsum Valley Trek, they are as follows:
The best remote trekking experience in Nepal
Quiet and peaceful trails amidst far-flung villages
Reasonable inclusive price of the adventurous trip
Rich cultural diversity in the trekking area
Trekking in these regions is not difficult, yet it is moderately strenuous
It is safe and secure to trek in these regions
Plenty of acclimatization hiking options and side trips in the region
We have compiled all the necessary information regarding the Manaslu Circuit and Tsum Valley Trek for our fellow trekkers. Before taking up on an adventurous journey in the Himalayas, it is judicious to know the pros and cons about the trip. When you already know what to expect in the Nepal Himalayas, nothing will come to you as a sweet surprise later on. Thus, this little write-up may be useful to you for your future trip. This is a small effort from us at Royal Holidays to present before you, every possible information about the Manaslu Tsum Valley trek. If you did not find what you were looking for, you can contact us and send us your queries. We will be more than happy to provide you with the most feasible probabilities.