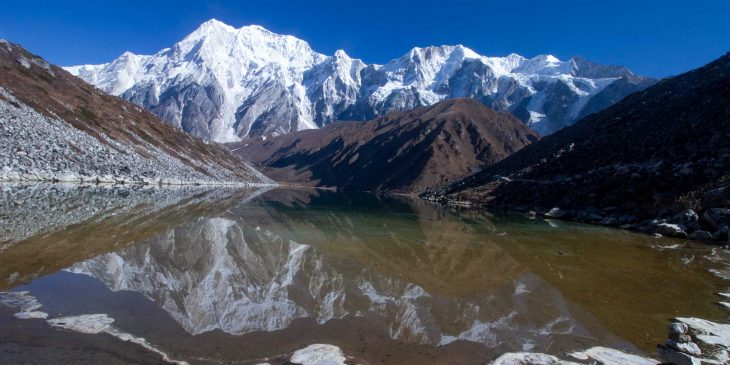 The Ponkar Lake Sunrise Trek is commonly also known as the mini Manaslu Trek. Ponkar Lake lies in Bimthang, a part of the Manaslu trekking route beyond the popular Larkya La Pass (5160m). The lesser-known Ponkar Lake Sunrise Trek does not start from Sotikhola like other regular Manaslu region treks. It is a 2-days walk from Dharapani in the Annapurna Circuit Trek to reach Ponkar Lake. In fact, it is suitable for those travelers who desire to explore the magnificent Himalayan vistas. The views from lower elevations including Mt. Manaslu, Ponkar Himal, Himalchuli, Ngadi Chuli, and several other peaks are breathtaking. Not only for the Himalayan scenery, but it is also famous for the glacier Ponkar Lake at 3965m. The subliminal glacier melted Ponkar Lake is the summer home to ducks.
The mini Manaslu Trek is best suited for those who wish to do the Manaslu Circuit Trek yet are time bound. The trek starts at Chamche after a long drive from Kathmandu via Besisahar on a private vehicle. However, public transportations are also available, which usually take a longer time to reach. Some Ponkar Lake Trekking itineraries incorporate the first-day drive from Kathmandu up to Dharapani. In short, the trek begins from Dharapani instead of Chamche, in this case. Our mini Manaslu Trekking Itinerary, on the first day, kicks off by trekking up to Dharapani. While trekking from Dharapani on the following days, trekkers will be rewarded with remarkable landscapes. Similarly, awe-inspiring views of the 8th highest mountain, Mt. Manaslu greet its visitors en route in full glory.
Passing by villages like Gho and Surki Khola, trekkers will reach Bimthang on the third day of hiking. Walking straight ahead from Gho through untouched forests of oak and rhododendron brings you to Bimthang. Truly magnificent, Ponkar Lake and Bimthang village remind of a certain part of paradise located in the Manang district. Although one may see many trekkers at the starting point of this trek, the crowd slowly gradually disappears. While this may be true because the starting point for both Ponkar Lake Sunrise Trek and Annapurna Circuit Trekking is the same.
The return journey is a downhill walk from Bimthang to Gho and on the next day trek back to Dharapani. Subsequently, it is again a long drive back to Kathmandu. Although this underrated trek is open throughout the year, the best time of trekking is during autumn and spring seasons. It is moderately easy trekking in Nepal and the route is not difficult. However, to accomplish this trek successfully, fitness is required. Trekkers need not carry their camping stuff as there are fine lodges available on the trekking route.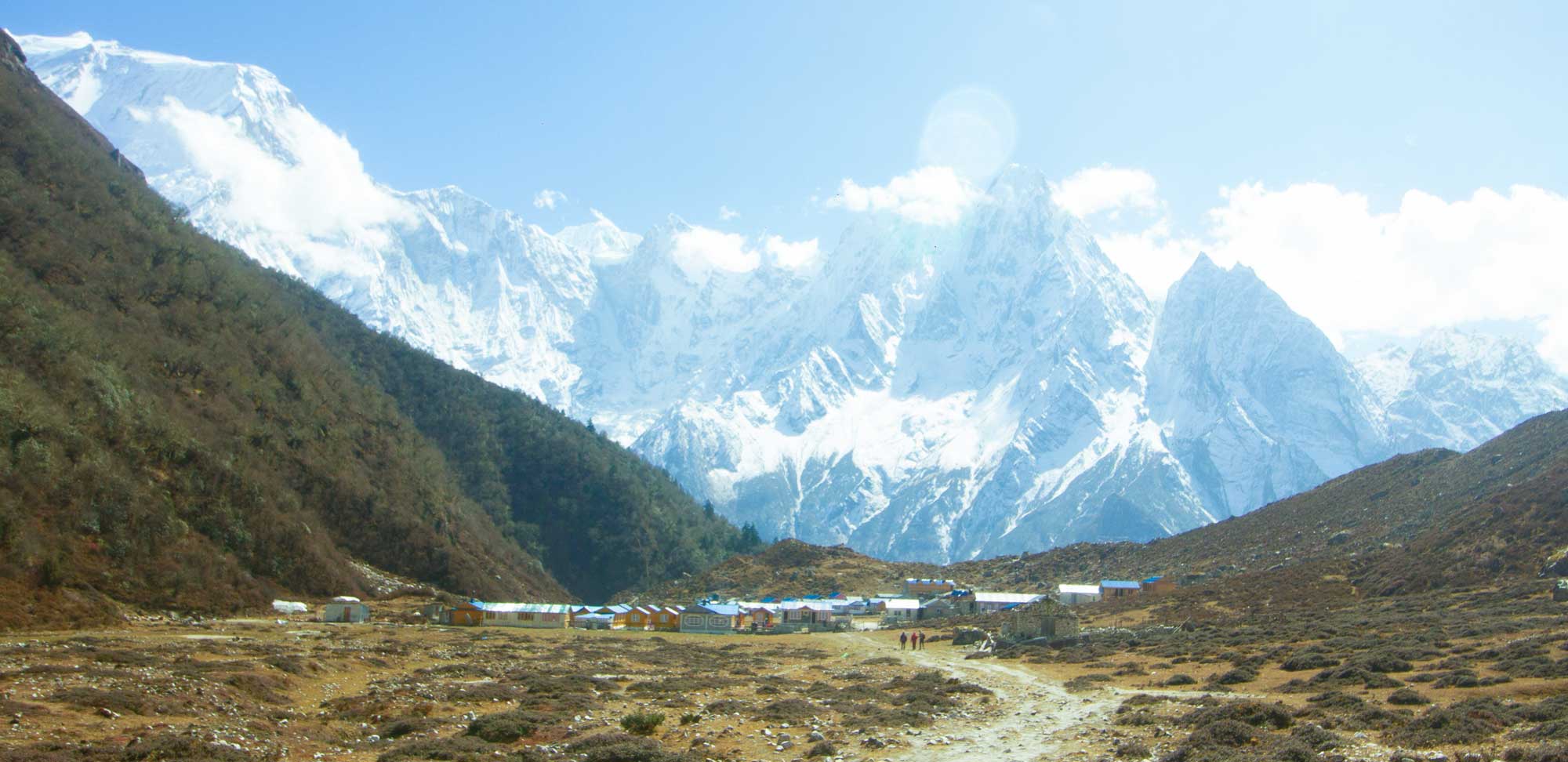 The Manaslu Conservation Area Project (MCAP) covers the Ponkar Lake Trek as it lies in Bimthang. However, it is the Annapurna Conservation Area Project (ACAP) that covers the starting points of Chamche and Dharapani. Thus, it is necessary for trekkers to acquire both ACAP as well as MCAP permits.
Our expert team of trip planners and informative local guide will assist you throughout your trip in the Himalayas. Most importantly, they will organize all the necessary permits, transportation, food and accommodation for your travel and stay. Summing up, below are some of the major trip highlights of this remarkable trekking trip:
Trip Highlights
One of the most suitable treks for those who do not have sufficient time to do longer trips in Nepal.
Breathtaking views of Mt. Manaslu, Larkya La peak, Ponkar Himal, Ngadi Chuli, Mt. Himlung, Mt. Nemjung, Mt. Kanguru, and many more.
Exploration of the glaciated Ponkar Lake.
Combination of the local traditional culture and the beauty of nature.
Trekking program for all four seasons.
Welcoming and comfortable teahouses and lodges on the trail.
For your daily schedule, listed below is the outline itinerary of the Ponkar Lake Sunrise Trek:
Trek Outline Itinerary
Day 01: Arrival in Kathmandu airport; transfer to hotel (1300m)
Day 02: Drive to Chamche via Besisahar on a private vehicle (1680m): 7-8 hrs drive
Day 03: Chamche to Dharapani (1963m): 4-5 hrs trek
Day 04: Dharapani to Surki Khola (2700m): 4-5 hrs trek
Day 05: Surki Khola to Bimthang (3690m): 5-6 hrs trek
Day 06: Hike to Ponkar Lake (3965m); return to Bimthang: 3-4 hrs trek up and down
Day 07: Bimthang to Gho (2515m): 5-6 hrs trek
Day 08: Gho to Dharapani; drive to Kathmandu via Besisahar on a private vehicle: 2 hrs trek, 8-9 hrs drive
Day 09: Final departure back home
The most Frequently Asked Questions regarding the Ponkar Lake Trek are presented hereunder:
Trekking FAQs
If I want to do this trekking, is previous trekking experience required?
Ponkar Lake Trek is comparatively a very easy trek. As such, it does not require any previous hiking or trekking experience. However, travelers with previous walking habits will find it much easier walking the undulating paths. As a matter of fact, for trekking in Nepal, it is desirable to possess sound health and body fitness.
What is the best time for trekking in Nepal?
On a general note, the best time for trekking in Nepal is during the autumn and spring seasons. However, all four seasons are favorable to do this particular trekking.
During the peak trekking seasons, will the trekking route be crowded?
During peak seasons, all other major trekking routes like Everest or Annapurna remain crowded. But, this particular trekking route, even during peak season, does not get jam-packed. Being one of the newly introduced trekking routes in Nepal, not many people have heard about this trek. It is a perfect hiking experience for travelers seeking solitude and time with nature.
What are the food and accommodation arrangements?
There are lots of teahouses and lodges on the entire trail being quite popular as a common route of the popular Manaslu circuit trekking. Therefore, there are comfortable and welcoming teahouses and lodges with wifi facilities and decent place to sleep at night as well as healthy food to eat.
Are there any age limits for doing this trek?
As it is not difficult trekking as mentioned earlier, people of any age but with a proper medical condition and physical fitness can undergo this trekking. Normally, we haven't set any age limits as long as there is determination and will power, and of course good mental health in our travelers. So as to say, people of any age are always welcome to go for it. However, if you have any health issues, we advise you to kindly inform us regarding the condition prior to your trek.
Before the actual trekking, will there be a briefing session about the trip?
After arrival in Kathmandu, we will allow you to meet your trek guide who will brief you about your trip. All the required information will be given to you. You are free to talk to your guide and ask him any trip related questions. We will clear all your doubts and make you feel comfortable before hitting on the trail.
Can you give me information about my trekking crew members?
As long as you are not on a private trip, you will be accompanied by other fellow travelers who have booked their trip on the same date as you have. Normally, we do not accommodate a large group of trekkers. Apart from your trekking partners, your government registered English speaking guide will be there. He holds enough knowledge about responsible and sustainable tourism. He has undergone Wilderness First Aid training, as well as familiar with emergency evacuation processes. Also, there will be assistant guides, and porters who will carry your load for you on the trip.
How do I react if I feel I am being hit by altitude sickness?
Although, this trek is not high-altitude trekking, chances of being hit by altitude sickness are very rare. So, first of all, we recommend you to carry Diamox tablets with you, which will help you fight against the high elevations. Also, it is recommendable to consult your physician before you take on for the trip. If you feel uneasy or uncomfortable during the course of your trip, be open enough to immediately inform it to your guide. He will help you in all possible ways. If you are group trekkers, we advise you to walk in small groups so that you may help each other in case of such cases.
Do I need insurance for my trekking holiday in Nepal?
Yes, it is mandatory for you to procure your insurance before you travel to Nepal. Please stay informed that we do not sell or arrange insurance for our travelers in Nepal. So it is advisable to do all the insurance work back home, which is in fact, much hassle-free as it would be here in Nepal. Since you will be traveling in some unpredictable routes of Nepal, it is always wise to be cautious. You may require helicopter evacuation or your trip canceled due to unseen injuries or sickness. Thus, getting insured for your trip is highly recommended.
What equipment will I need for my trip?
For all the trekking trips in Nepal, there is a certain mandatory set of equipment needed. We have mentioned in our packing list section about all the required equipment. We advise you to check the required gears, and equipment and come fully prepared, based on the season that you are traveling to Nepal. In case you forget to carry some of the important items, there are plenty of shops around the corner of the bustling shopping hub of Thamel where you can buy those items at competitive rates.