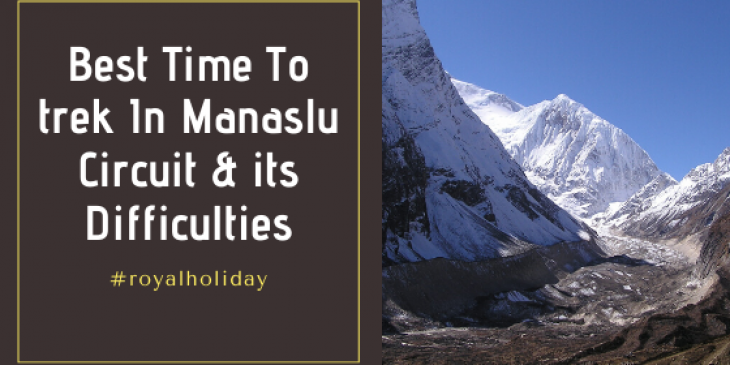 Manaslu Circuit Trek
The Manaslu Circuit Trek has remained open to trekkers from 1991. This fabulous trip is an adventurous walk that circumvents Mt. Manaslu, the 8th highest mountain peak on earth. The Manaslu Circuit Trek tour is a popular trekking destination with matchless Nepali culture and traditions on display. In the past, the Manaslu Circuit Trek in Nepal did not see as many trekkers as in the Annapurna Circuit Trek. But, in recent times many foreign trekkers have bypassed the more popular Annapurna trekking and opted for the Manaslu trekking. The development of infrastructure on the Annapurna trails has led many trekkers to avoid the dusty and busy trails. Trekkers now choose to embark on a less crowded and tranquil trekking destination in Nepal, thereby making Manaslu amongst their favorite.  
Within a few years, the Manaslu Circuit trail has become a popular alternative to the Annapurna Circuit and Everest Base Camp Trek. Trekking agencies in Nepal have come out with variations in the Manaslu Circuit Trek itinerary, some offering Manaslu Circuit Trek 22 days while others offering Manaslu Circuit Trek 12 days. For those trekkers who missed out the Annapurna Circuit trekking in its golden era, the cheaper budget Manaslu Circuit trek is a perfect trekking package. It is a well known fact that Manaslu trekking is one of the best off-the-beaten-path treks in Nepal. The wonderful trip takes visitors through the remote villages, lush green forests, several rivers and waterfalls, and amazing mountain vistas. 
Best Time to trek in Manaslu Circuit 
Considering the Manaslu Circuit Trek time, the best seasons are during spring and autumn. During the months of March, April and May when it is spring in Nepal, the weather is clear and calm. Trekkers get the opportunity to view the high Himalayan peaks including the mighty Manaslu in its glistening form. The forests are filled with rhododendron flowers in full bloom while trekkers can watch the forests transform into beautiful gardens. Likewise, another perfect season for trekking in Manaslu region is autumn. During the months of September, October and November it is autumn in Nepal. It is the perfect time for trekking after the monsoon has ended. During autumn, one can get the clear majestic views of the Himalayan peaks on warm sunny days. Autumn is the time when major festivals of Nepal are celebrated, so you may get a chance to participate in the local festivals as well. 
Difficulties of Trekking in Manaslu Circuit
How difficult is the Manaslu Circuit Trek? You might be speculating about the Manaslu Circuit Trek difficulty. You may even be wondering what level of fitness is required to accomplish the trek successfully. Talking about the difficulties while trekking in Manaslu region, I would like to bring out all those factors that contribute to it. One thing for sure is that the trek is of strenuous grade. It is somehow difficult for novice trekkers. Despite being full of abundant natural beauty and a notion of complete peace, trekking up to the isolated foothills of the Himalayas has its own difficulties. Trekking in Manaslu during any season has its pros and cons which I will elucidate here. Difficulties while trekking may account to distance, altitude, weather conditions, travel and guide permits, and training. There are various things that will help you face the difficulties during your Manaslu Circuit Trek. 
And for beginners, the good news is that you can accomplish the trek if you prepare yourself earlier. Come clear in your mind that you do not require any technical climbing skills to complete this trek. If you are a person with a basic fitness level and strong determination, you can do it! 
Allow me to discuss a few factors that determine the Manaslu Circuit Trek difficulty:
Your trekking journey will begin with 8-9 hours bus ride from Kathmandu to Arughat and further onto Soti Khola on a local jeep. The distance covered during the bus ride is about 140 km. Your actual trek begins in Soti Khola and the total length of the trek is about 177 km which will be covered in 11 days. Various trekking agencies offer variations in the number of days to accomplish this trek. On our standard 13-days Manaslu Trek itinerary, you will be walking an average distance each day of approximately 15-18 km. During the first few days of trekking, it becomes quite difficult for beginner trekkers as the Budi Gandaki Gorge is painfully steep. You will need to walk a lot of uphill and downhill trails and sometimes walk on gusty trails and cross suspension bridges over the Budi Gandaki River. 
The trek can, however, made longer or shorter, if you wish to customize it your way. All you need is to be physically and mentally prepared for all kinds of terrain and the rocky trails which may add exhaustion for unfit trekkers. We recommend you do jogging and short hiking for about one to two months prior to your Manaslu Trekking in Nepal.
During the Manaslu Circuit Trek, you will traverse through different landscape, weather conditions and varying elevations. It is not surprising that the Manaslu Trek has great variations in terms of altitude. After an adventurous bus ride, the trekking begins at a low altitude of 700 meters in Soti Khola. In due course of time, you will trek up to an altitude of 5213 meters while crossing the Larkya La Pass. Crossing this perilous pass is the biggest challenge of the entire Manaslu Circuit trail. As you continue trekking, the trail gets higher and you will notice fewer trees. You become more exposed to snow, sun and the cold wind. It doesn't matter if you are a beginner or an experienced trekker – if you don't trek precariously, you might suffer from altitude sickness. Saying so, the major difficulty during most high-altitude treks is the ability to get adjusted to the high elevation. 
It is quite common while trekking in the Nepal Himalayas for trekkers to feel the effect of altitude above 2500 m. Acclimatization plays a major role here. You need to spend an extra day or two at certain elevation before taking on for another higher night halt. Many trekkers avoid this acclimatization day just to cut short their trekking days. Doing so, they are more prone to the attacks of altitude sickness. Note a point that to get adjusted to higher altitudes, long itineraries with additional acclimatization days are crucial. It will help your body acclimatize to the altitude and you can continue further with ease.  It is uncertain as to how an individual's body will react to the altitude – it all depends on the age, gender, physical fitness, sound health conditions and regular exercise. 
What is this altitude sickness? As you walk towards higher elevation, you will experience a shortness of breath making it relatively difficult to walk. You will get a mild headache, nausea, insomnia and breathlessness. This is a serious condition with serious effects. To prevent getting altitude sickness, you should climb or walk at a slower pace. Pack plenty of healthy snacks that contain carbohydrates. Avoid the intake of alcohol and don't smoke. Do not use medications like sleeping pills which will only worsen your sickness. Stay hydrated at all times by drinking plenty of water and juice. If you experience a headache or feel sick, stop and rest immediately, take proper medicine and inform your guide.
Weather plays an important role during your Manaslu Circuit trekking as it can become unpredictable sometimes. Anything from the scorching sun, chilly wind, freezing nights or heavy rainfall is possible during your entire trekking time. Days are usually warm and dry and the nights become very cold. You will need to pack warm clothes especially for the evenings and nights and a good quality sleeping bag. 
Trekking in Manaslu region during the winter season is quite disheartening due to the heavy snowfall. The major highlight of the trek Larkya La Pass and the teahouses along the trails remain closed. Temperatures drop below freezing point at night while the daytime temperature is stable and the mountain views are spectacular. 
Trekking in Manaslu region during summer season is almost dominated by the monsoon and there is incessant rainfall during this time. Summer is usually hot and wet. The sun shines during the day making it warm and the nights are usually below the freezing point. When it rains, the trekking trails get slippery and muddy making it very unpleasant to walk. The trails get infested with leeches and a couple or more may stick up to your feet. Due to the rainfall, crossing the Larkya La Pass would be difficult and risky. 
Trekking in Manaslu region during spring season is one of the best times of the year because of the ideal conditions for trekking. The weather remains perfect and you will get the finest views of the snow-capped mountain peaks. The temperature is mildly warm during the day, but it gets quite cold in the night. Spring is also a good time to see the rhododendron flowers bloom and the jungles transforming into beautiful colorful gardens. 
Trekking in Manaslu region during autumn season is considered the peak season of the year. During this time, the climate is pleasant with stable temperature and crystal clear mountain views. Saying thus, the Manaslu Circuit Trek difficulty based on the weather conditions can be trimmed down by planning to trek during the most favorable seasons. And the most favorable seasons are obviously during spring and autumn. 
As mentioned earlier, the Manaslu Circuit Trek is a strenuous and demanding trip. Even if you are physically fit, we suggest you getting trained and prepared for such long distance trekking at high altitudes. Training is the best way to keep you perfectly fit. It reduces muscle strains and helps getting adjusted to high altitudes. Spend at least two months to train yourself along with a balanced diet to maintain physical and mental fitness. Training reduces the menaces of any health associated concerns and will train you in increasing your stamina. Training will ultimately help you in making your upcoming trek a lot easier and comfortable. 
Walking for 6 to 8 hours every day at higher altitude than where you live (with a light backpack) is a good start. Preparation is decisive to accomplish and make your Manaslu trekking enjoyable and a memorable one. Preparing your mind is equally important as preparing your body. During your Manaslu Circuit Trek, you will not be hiking on the same level of terrain and most of the time you will walk on steep and rocky trails. Prepare your legs, knees and ankles to walk in the forests, rocky paths, long steep climbs and steep descents. Stair climbing is a good exercise to face the stress of walking on mixed terrain during the trek.
Strength and Endurance Training
When determining your fitness level for trekking, strength and endurance training is very important. You will be walking for 5 to 7 hours every day in the forested trails where the paths are rocky with steep climbs and descents. Not just that, you will be walking along with your backpack. So, it is important to assemble strength in your shoulders, arms and back. Similarly, leg strength is equally important for your trek, so include exercises that strengthen your leg muscles during training. Leg exercise may include leg presses, weight squats, lunges or body weight squats. 
Diet is another significant consideration during your training session. Drinking plenty of water and eating food that is rich in carbohydrates, protein, and fibers will produce good results. Even when trekking in the mountains, make sure to balance your diet so that you can replenish the lost energy. 
You need to have a good cardiovascular fitness while taking up on the Manaslu Circuit trek. It helps in proper functioning of the heart and lungs in supplying oxygenated blood to the muscles. With the increase in altitude during the trek, the air pressure decreases meaning there is less oxygen present in the air that you breathe. To deal with insufficient oxygen present in the air during the trek, we recommend you to build up your cardiovascular fitness. The best exercises to build up your cardiovascular fitness are cycling, swimming, running, jogging, brisk walking, and skipping.
It is very important that you are mentally prepared to take up the Manaslu Circuit Trek. It is, in fact, not very difficult to trek in the Manaslu region if you are mentally strong. Mental health includes your emotional values, psychological thoughts, and social well-being. These things affect everything you think, feel and act. Over and above, it helps to determine how to handle the stress. Without the mental ability to push yourself forward, you cannot complete the trek. 
Until you actually start your trek, you can only imagine how the trek actually is. So, to get the real feel of how your body would react during long hours of walking, we recommend you to undertake short one-day hikes. It is during this time that you will know how it feels and how to react during the actual trek. If you don't have short hiking options in your hometown, you will find plenty of short one-day hike options in Kathmandu. You can embark upon any one of the short hikes before you go on for the Manaslu Circuit Trek. Going on for such hikes will help you prepare mentally. 
Difficulties of Trekking in Manaslu Circuit during different months
Manaslu Circuit Trek during January
January is the coldest month in Nepal where the minimum temperature at higher altitudes drops to -16 degrees Celsius. 
Most of the passes in the Manaslu region experience winter-storms

Heavy snowfall and freezing temperature

Risky trekking trails mostly wet and slippery

Crampons may be needed to clear the snow and cross the passes

Most of the teahouses in the upper region remain closed

Snow covered trails above the village of Namrung

Attempting to reach Manaslu Base Camp becomes too risky

The only lodge at Dharamsala remains closed, so Larkya La Pass needs to be crossed in one day
Manaslu Circuit Trek during February
February is a shoulder month that sees a crossing over between the cold winter and the cooler spring. Winter season is almost done and temperature begins rising gradually.
Snow begins melting causing wet and slippery trails

Only some tea houses start to re-open with the blooming of the local flowers

Pack winter clothes and equipment

Unpredictable weather in higher regions

Snow covered trails above the village of Namrung

Attempting to reach Manaslu Base Camp becomes too risky

The only lodge at Dharamsala remains closed, so Larkya La Pass needs to be crossed in one day
Manaslu Circuit Trek during March
March is the month that welcomes spring season. Colorful blooms of rhododendron flowers can be savored in the lower regions of Deng and Shyala.
Peak season, so expect a larger crowd

Trails and teahouses are overcrowded

Very hot at the starting and ending points of the trek
Manaslu Circuit Trek during April
April is the month when the rhododendron flowers are at their colorful best. The stable weather conditions favor the trekkers, climbers and their expeditions.
Crowded teahouses and trekking trails

Very hot at the starting and ending points of the trek
Manaslu Circuit Trek during May
During the month of May, the spring season comes to an end. You can see the last blooms of the rhododendrons on the hillside. 
Temperature begin rising in the lower regions

Afternoons becomes too hot and sweaty

Trails in the lower regions become dusty

Very hot at the starting and ending points of the trek
Manaslu Circuit Trek during June
June brings the summer season in Nepal along with the monsoon simultaneously. With the rains, the temperature begins to drop.
Wet and slippery conditions of the trekking trails

Leeches and mosquitoes are rampant on the trails and even in the teahouses

It is hard to spend a night without an insect repellant

A good ankle support boot is a must

Make sure to pack your rain gear including rain jacket, pants and waterproof covers

Unpredictable cloudy and short bursts of rainfall

Small streams will have grown making it impossible to cross the wooden bridges. It takes a little more effort to walk to the higher suspension bridges

Possibility of landslides
Manaslu Circuit Trek during July
July is the month to enjoy the lush and dense green forests and landscapes. Monsoon has set comfortably and nature comes to life.
Rainfall causes tough situations

Landslides and unexpected road blockages

Flight delays and disrupted land transportation

Some lodges and tea houses remain closed due to bad weather

Small streams will have grown making it impossible to cross the wooden bridges. It takes a little more effort to walk to the higher suspension bridges
Manaslu Circuit Trek during August
August is the month when monsoon is at its height and trekkers have a limited choice for accommodation in the higher regions. 
Extra challenge and adventure for the experienced and adventure-seekers

Constant rainfall

Wet and slippery trails

Most of the tea houses remain closed

Small streams will have grown making it impossible to cross the wooden bridges. It takes a little more effort to walk to the higher suspension bridges

Possibility of landslides
Manaslu Circuit Trek during September
September is yet another shoulder month between the off-season and peak season, the onset of autumn. Monsoon slowly begins saying farewell to the region and you can enjoy cool temperatures along with bright and clear days by mid-September.
Rainfall can be expected during the early September

Price of restricted area permits increase
Manaslu Circuit Trek during October
October is the best month of the entire year to do trekking in Manaslu region. The weather is stable and the temperatures are perfect. It is neither too warm nor too cold for a trek. Skies are clear and the views of the mountain peaks and surrounding landscape are crystal clear.
A large number of crowds on the trails and the teahouses

Need to pre-book everything in advance to ensure getting your preferred room in the lodges on the trail.

Price of restricted area permits increase
Manaslu Circuit Trek during November
November is the second best month for trekking in Nepal when the temperature starts to cool and the days are much drier.
Cold mornings and nights

Large crowds in teahouses and on the trail during the first half of the month

Price of restricted area permits increase
Manaslu Circuit Trek during December
December is the month when it starts getting colder. Temperature drops in the higher regions and it is very cold during the early mornings and night time.
Temperature drops of -8 degree Celsius can be experienced at high elevations

Pack your winter essentials and sleeping bag 

Teahouses do not have in-house heating services

Most of the teahouses, lodges and restaurants in the upper regions of the Manaslu circuit are closed for the season due to severe cold

Snow covered trails above the village of Namrung

Attempting to reach Manaslu Base Camp becomes too risky

The only lodge at Dharamsala remains closed, so Larkya La Pass needs to be crossed in one day
Conclusion – The Final Say
The Manaslu Circuit Trek in Nepal is undoubtedly a wonderful trekking experience in the remote parts of the country. Saying so, it is clear that the trek is quite a demanding journey not considering the month or season you wish to travel. As it lies in the foothills of the Himalayas, it is a remarkable choice for exploration of the wild to acquire an unforgettable adventure. Anyone can do this trek during any time of the year. All you will need is the right training, a good mental hygiene and positive attitude. Of course, you will also need the appropriate gear, equipment and knowledge on how to use them. 
What I feel about the Manaslu Circuit Trek is, regardless of its reputation as a difficult trek, I think it is more or less a moderate trek. Trekking in each season is charming in its own way. The only drawback while trekking in winter season is that the highlight of the trek, Larkya La Pass remains closed due to excessive snowfall. So, you will not be able to reach the Manaslu Base Camp and the Tibetan border area. 
So, have you decided to plan for a perfect Manaslu Circuit Trek? Forget the rumors about the trek being difficult. Royal Holidays will provide you proper guidance and leadership to complete your trek successfully without any troubles. If you find our standard Manaslu Circuit Trek itinerary is not suitable for you, we can always customize or tailor-make your trip. We recommend deciding the best trekking time that is suitable for you. We also recommend considering to traverse on the different routes for this trek. Remember that the Manaslu Circuit Trek packing list will be different for different seasons. So, don't forget to contact Royal Holidays before packing your trekking essentials.