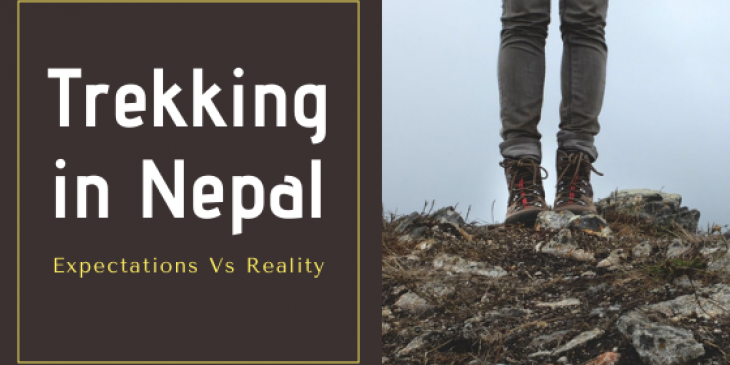 Before throwing some light on the expectations vs reality of trekking in Nepal, let me pour some significant basics about trekking in Nepal. It is not new to most of the global populace that Nepal brags about owning incredible natural splendors. Likewise, the county boasts about the magnificent once-in-a-lifetime treks spread in the Himalayan segments. Well, if you haven't experienced trekking in Nepal until now, then you are missing some precious moments.
Trekking in Nepal is not just a beautiful exploration, but it is also a moment to cherish forever. Trekking through the mesmerizing terraced fields will lead you on a journey like no other. It will test you for your willpower, persistence, fitness, mental stamina, and altitude change. The land of the Himalayas presents wonders that are not only awe-inspiring. It also offers memories that remain etched in your mind everlastingly. Trekking in Nepal is, in fact, a wonderful feat amid the vast scenic and natural diversity. The rich cultural ethos and the beautiful ethnic settlements encountered during the trekking trips are something exceptional.
The most popular treks in Nepal are Everest Base Camp Trek, Annapurna Base Camp Trek, Manaslu Circuit Trek, Langtang Valley Trek, and Muktinath Trek. Other trekking destinations on off-the-beaten-path that are frequently taken up by wilderness trekkers are Tsum Valley Trek, Nar Phu Valley Trek, Kanchenjunga Circuit Trek, and Upper Mustang Trek. Trekking along the elegant river valleys harboring unique terrains and passing through divine alpine forests and green pastures is an undeniably awe-inspiring phenomenon.
Many hikers keep questioning themselves what if they do not make it to their destination while trekking in Nepal. It petrifies them with "what if I cannot breathe at high elevations" "what if the views don't impress me" or other endless questions. But it is not until they reach their targeted destination that they realize the ultimate truth. They realize the legitimacy of overpowering something very extraordinary and challenging in their lives! Most trekkers have defined trekking in Nepal as an enlivening adventure. While others have also labeled trekking in Nepal as outrageous speculation into the wilderness and remote countryside.
Now, when we come to the expectations vs reality of trekking in Nepal, there is supposedly a vast gap between the two. In fact, trekking in Nepal is not exactly what people expect prior to it. One does not really find the things they expect. The reality differs from the expectation. Trekkers may expect that everything will be in perfect condition during their Nepal trekking.  But, things may not always go their way. Trekking in Nepal should not be considered merely just walking the mountain terrains and remote forest areas. There are several challenges into the core wilderness that brings out the difference between expectation and reality. Despite Nepal being on an ardent trekker's bucket list, here are few reality checks that you better know beforehand:
Face Off: Expectation vs Reality
Regardless of what most people figure out, trekking in Nepal is more than just wandering alone through remote locations in the countryside. As hikers set out on the trails, they will discover that the trail is filled with hundreds of other trekkers and locals passing by. Except for some extremely remote areas of Nepal, you will find locals on the trekking path hauling food, water, and other essentials from larger towns to their villages. In addition, there will be dozens of other fellow trekkers, some heading towards and others returning from the destination.
We find many people to be overstating about trekking in Nepal, while such is not the case sometimes. Trekking in any part of Nepal should not be taken lightly as it is not so easy as you might have heard. Trekking above 5000 meters is strenuous and always a matter of concern. Not all trekking routes in Nepal are doable by people of all age groups and possessing normal stamina. Trekking normally begins at a low altitude to culminate at much higher elevations, which itself is a tough task that requires a high level of stamina and will-power.
The mountain peaks are in perfect view at all times during trekking.
We know Nepal for 8 of the 14 tallest mountain peaks in the world. Trekkers visiting Nepal wouldn't want to miss some tantalizing views of the tallest mountains. They arrive with complete preparation to fulfill their dreams about capturing the flawless snow-capped mountain vistas with their DSLR cameras or Go Pros. In reality, the weather in the mountains may not always be good. The bad weather could produce hazy visions disrupting crystal-clear photography. The mountain peaks may not be visible at all. It is to be noted that the weather in Nepal is always unpredictable. If today is a clear day with bright sunshine and clear skies, tomorrow may be foggy, cloudy or rainy. It is not always the same though. There are favorable seasons to visit Nepal, especially during the autumn and springtime.
Most trekkers think the trekking trails in Nepal lack proper food, water and accommodation facilities.
Taking the remoteness of the trekking paths in Nepal, it is natural for a trekker to think drinking water, food, and accommodation facilities are not up to the mark. It is, in fact, very much wise to think about the water impurity, and food and lodging scarcity realizing the altitude, remoteness, and inaccessibility. Some may feel that bottled water is the only option for drinking as they might have heard that tap water or stream water is undrinkable. While some trekkers are totally dependent when they book a luxury trekking holiday. When we come to reality, the expectation appears only partially true. Water purifying tablets and other agents are easily available ubiquitously so drink tap or stream water isn't a problem at all.
Except for some of the most remote trekking areas in Nepal, food isn't a problem at all. We find some luxury hotels and restaurants on the trails at some trekking regions while most of the lodges and restaurants are ordinary and average. During peak seasons, lodges may report of food shortage because of a huge crowd of trekkers. At times like this, you may not be able to eat food items of your choice or from the menu. However, you will not starve of hunger on any of the trekking routes in Nepal. Some past trekkers know the fact, so during the peak seasons, they will opt to trek other less-crowded areas like Mardi Himal Trek or Khopra Ridge Trek.
About the shortage of accommodation on the trekking trails, it is quite true that the lodges fail to provide you rooms. But, it is only during the peak seasons that the lodges are terribly crowded, and you will get a room only if you have made a prior booking. During cases, when you don't get a room, it will compel you to sleep either in the dining hall or in the dirty dormitories in local guesthouses.
Luxury accommodation in the mountains means they are far better from the local lodges or teahouses, with hot showers and an attached bathroom. But one should not expect the same facilities as provided in Kathmandu or Pokhara hotels. Despite rooms to sleep, one must expect to face the worse conditions of the rooms the higher you climb. Because of the continued flow of trekkers in the teahouses, the bed sheets may not be changed regularly and the rooms are not heated. Whatever be the case, we recommend it to carry your own sleeping bags for hygienic purposes.
I get to eat whatever I want while trekking in Nepal
The expectation for choosing food from the menu is strictly limited. If you are a solo traveler, then you can choose your food from the menu up to a certain point at some trekking regions in Nepal. Some trekking companies in Nepal have a fixed menu which means you will have to eat the food that is provided to you at your guesthouse. Despite being a solo traveler and willing to pay any amount for your food, lodges at high altitudes or remote trekking areas do not offer many varieties of food. The most common food available in these areas is the typical Dal Bhaat Tarkaari.
Another important aspect regarding your food–it is 'eat-where-you-stay' deal at the local teahouses. However weird it may sound, but the lodge owners offer trekkers a room for a very trivial sum and later make up the difference with the food consumed by a trekker. If a trekker heeds to the deal to eat in the same teahouse where he or she stays, then probably the owner will charge a hefty sum of money just for the room. Sad but true! So, it is better to clarify everything about your food and accommodation before paying for the room.
I am super fit for trekking in Nepal after a pre-trek training
Getting prepared for trekking in Nepal for about 2 to 3 months prior to the beginning of the trek gives a feeling that you are super fit to challenge the terrains of the Himalayas. It is always good to get yourself prepared beforehand by doing regular exercises, hiking for a couple of hours daily and undergoing certain cardiovascular exercises. However, even after the completion of an intense physical course, you must not take trekking in the high elevations lightly.
The reality is that nobody is perfectly fit in spite of regular exercise. Even the Himalayan Sherpas sometimes find it difficult to trek certain segments in the mountains. The only challenging factor while trekking in Nepal is the high altitude. Continuous steep ups and downs will drain away your energy and cause a loss of breath even in the experienced hikers. So, we recommend it not to race on the trails and walk at a slow pace with frequent rests at time intervals. There is nothing to hurry–follow the itinerary, the mountain isn't running away far from you!
Walking up the Himalayan trails is as easy as flipping the pages of a travel magazine of scrolling through my Facebook feed.
It is very inspiring when you see the giant Himalayan peaks on the pages of a magazine. It is much more alluring when a friend posts on his Facebook page, the stunning pictures of the trekking spree in Nepal Himalayas. But, only a few realize that it really requires dedication and a strong will power to hit the dirt tracks and reach the destination. Mind it, trekking anywhere in Nepal is not as easy as you may think. It requires a lot of effort and self-determination.
While trekking in Nepal, I get to choose the lodges to stay overnight.
You expect high. There are several factors that determine the place of your overnight stay while trekking in Nepal. To a certain extent, your expectation is partially true. If you are traveling solo, then it is you who will decide where to stay overnight and where to eat your food. On the flip side, doing it all by yourself could be an expensive affair. If you are trekking along with a local guide or through a registered trekking agency, then your guides will choose the lodges for you. Even if you are trekking with a guide or through a travel agency and you wish to choose your own lodges, then you should make it clear while booking your trip. Also, be ready to pay whatever the lodge owner demands. It is your trip and your money.
Normally budget trekkers who travel in small or large groups follow the itineraries as designed by their trekking agencies. These trekkers comply with the agency terms and conditions and are happy enough with the services provided by the trek operators.
Interesting Facts About The Teahouses On The Annapurna Trekking Route
WiFi connectivity is not available in the trekking routes
Except for the past hikers in Nepal, one would not expect to use the WiFi facilities while trekking in Nepal's diverse regions. You would probably be dejected with the thoughts of not being able to post the sunrise view shots on your Instagram or Facebook. Probably you feel miserable for the thoughts of being unable to let your friends see that jump-shot vintage pictures on your social pages. But there are WiFi zones at most of the trekking routes and at the teahouses that you will be staying. If you are ready to pay those extra dollars, then getting connected to the entire world and updating your present status is not a problem at most places in recent times.
You can purchase a SIM card in Kathmandu or Pokhara and top up with a data package. In case there is no WiFi connectivity at certain places, then you can use your SIM data. However, the internet services may be rather slow.
The trekking routes of Nepal are still in wreck after the 2015 earthquake
In fact, the 2015 earthquake in Nepal caused havoc and devastation even in some popular trekking routes. Most of us might have seen traumatic pictures of the tragic demolition on social media platforms back then. Nepal is bouncing back at a gradual pace. Several years on, tourism activities including trekking have taken quite some time to gather normal momentum. Since Nepal depends majorly on the tourism industry, the country now needs more tourists to visit Nepal more than ever. The government of Nepal has announced Visit Nepal Year 2020 keeping in view to attract at least 2 million tourists. We expect the move to boost tourism and keep up with the national economy. Tourism brings the much-needed funds to poor communities. It gives the locals a means through which they can reconstruct and reorganize their livelihood.
The Sherpa are extremely friendly people
We know it that most of the Sherpa people are super friendly. This is a point where expectation meets reality. The Sherpa people are so friendly that they are always ready to help you out when you are in trouble. It does not bother them in the least with attending to foreign tourists as they see guests as gods. The Sherpas including the entire Nepalese people believe in the saying "Atithi Devo Bhava", which literally means "Guests are Gods". Just make sure you don't cross your limits by disrespecting their culture and religious customs. We cannot guarantee that they will not retort if you go against their well-preserved culture and traditional beliefs.
Booking your trekking holiday through an agency is a costly affair.
This is one controversial issue that needs to be justified here as most of the tourists think trekking agencies are expensive. They consider that these agencies charge skyrocketing prices for trekking in Nepal. It is at this point that travelers decide to trek solo. They do not take help or assistance from trekking operators in Nepal. Trekking in Nepal used to be a costly affair in the past decade. But, after the development of infrastructure on the trekking trails, the prices have to come down.
Several years back, there were few trekking companies. Also, the trekking trails in Nepal had a limited number of teahouses. There was no competition around the corner and teahouse owners quoted high prices for their food and accommodation. But, in recent years, the trekking business has grown, and it is a very competitive business today. There are many teahouses and lodges established on the trekking trails. Each of them tries to offer their best prices, considerably bringing down the trekking cost. Despite all this, we do not recommend our guests to go for extremely cheap packages. By offering very cheap prices, these operators will constrict your trek itinerary. They will reduce the service and facilities during the trek leading to an awful experience.
Everything on the trek will go as per the designed itinerary
This is one expectation expected by each trekker while planning a trekking holiday in Nepal. But the fact is, anything can go wrong at any time on the trekking route. Trekking in Nepal is highly unpredictable, mainly because of the weather conditions. We suggest that you plan your vacation flexibly, keeping few days as spare days. While the trekking guide tries to keep up with the designed itinerary, sometimes the initial plans have to be altered. It is due to unforeseen circumstances on the trekking route. A road blockage or a major landslide on the trail will lead to a change in your itinerary.  It is obvious and there is nothing you can do or blame the trekking agency or your trekking guide.
Conclusion
With some reality checks above, I hope that you gain an opinion of what to expect while trekking in Nepal. Why depend on others–be your own critic and have an adventure of a lifetime. The majestic Himalayan nation is truly a perfect place for you to untie your comfort zone. It is just right to throw yourself into the rich culture and heritage and the scenic grandeur that it possesses. No matter what you do, life is full of challenges. If you prepare well for your trekking by booking with a reliable agency who will provide you professional trekking crew, suggest right gears, help minimize altitude sickness and enhance stamina, you are done for an awesome trek of a lifetime.
They say trekking in Nepal is the hardest thing to do in life. At the same time, it is also the most rewarding moment. The absolutely breathtaking views make every step you take worthwhile. Incredible friendships will forge with each epic journey in the Himalayan trails. Together with your new mates, you will fall prey to the harsh conditions of the Himalayan weather. You will suffer burning muscles together. And, you will together endure the bitter cold, together you will cry and together you will laugh. In the end, together you will relish the triumphant moment and cheer each other at your trekking destination. As a true adventurer, be ready to face all the realities upfront. Likewise, keep reading stories about the enticing accomplishment of other people who went trekking in Nepal. Most stories don't mention the hardships and the bitter facts of the entire trekking journey. Be the one to dare all unseen paths and overcome the expectations with bare reality.