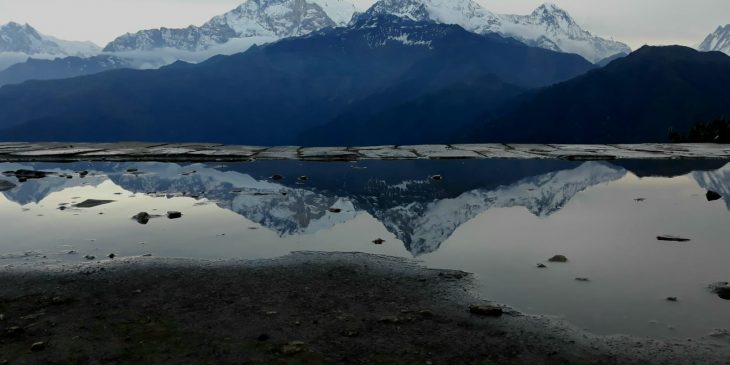 The best monsoon treks in Nepal are, indeed some of the most popular trekking packages in Nepal. Although the monsoon months don't attract flocks of trekkers in Nepal owing to the high temperatures and excessive rainfall, it is fortunate for those who pick trekking in the rain shadow areas. Despite the climatic uncertainties during monsoon, trekking during these seasons has various advantages – less crowded trails, lively villages, and blooming valleys. However, some treks during monsoon are best to avoid as the routes may be in ramshackle by incessant rainfall. Trekking trails get terribly wet and muddy making it noticeably risky of landslides, falling boulders and road blockages. Interestingly, the summer season and monsoon months collide between the same months between June and August. It is during these months that the mountain views are murky and flight delays are incomprehensible. On the fortunate front, Nepal has several destinations lying in the rain-shadowed zone that receive very little or no rainfall at all. Trekking in isolation with the best nature experience filled with green-carpeted lush vegetation and abundant flora is also a boon of monsoon trekking in Nepal.
Before we mention about some of the most popular monsoon treks in Nepal, we would like to bring some basic facts that would be handy to our fellow travelers:
Quick facts about monsoon in Nepal
The onset of monsoon in Nepal kicks off from early June and lasts till the end of August or early September.
The average temperature of Kathmandu during monsoon season ranges between 22°C to 30°C. The temperatures will gradually decrease as you ascend higher.
Travelers can experience a discounted adventure trip in Nepal during monsoon as it is literally an off-season.
Monsoon is the agricultural season in Nepal which means travelers can witness several activities such as ploughing, sowing, weeding of agricultural produce. Some foreign travelers enjoy participating with the Nepali farmers.
Monsoon season is a boon to keen botanists and nature lovers – it is a moment to observe fresh nature and abundant greenery almost throughout the trekking trails.
Owing to the low season, most of the teahouses on the trekking route remain closed. However, the open lodges will readily provide accommodation and food to fellow travelers.
An umbrella would do well at lower altitudes, but at higher elevations it is best to have a good quality waterproof raincoat. For clothing part, light and quick-drying materials are ideal.
It is always better to have some buffer days in hand to avoid flight delays or road blockages during monsoon season. Travelers may be stuck for several days at the airport or elsewhere.
Normally, rainfall starts during late afternoon, so starting to trek early in the morning to avoid the rain is the best bet for trekkers.
As an advantage – it is more likely for trekkers to witness a clearer view of mountains along with blue sky and surrounding green forests after a rain shower.
It is wise to pack goods that include waterproof shoes, light jackets or raincoats. Also, carrying drinking water and snacks is a relief if ever trekkers get stuck for few hours on the route.
Thunderstorm and lightning is not regular but whenever it occurs, it is advised to seek shelter inside your vehicle or a grounded building nearby.
When is the Monsoon season in Nepal?
Monsoon season starts in Nepal from early June and goes all the way through July and August as long as till early September. Not surprisingly as it may seem, monsoon and summer seasons in Nepal fall during the same months. It is a few weeks after the onset of summer season, the country begins to receive rain showers.
How is weather like during Nepal's monsoon?
Nepal is divided into three geographical landscapes; Himalayan (Mountains), Hilly and Terai (Plains). The weather depends on the landscape as well as the altitude. Some parts of the country receive less rainfall while other parts may receive excessive rainfall during monsoon. As we are talking about the trekking which is done in the mountains, let's get insight on Nepal's monsoon in the Himalayan region.
Weather is relatively hot and humid during these times in mountains as compared to other times throughout the year. And as obvious it is, monsoon means frequent rain showers.
Is trekking possible during monsoon?
Although it rains a lot during monsoon, there are certain rain-shadowed areas in the Himalayan region. These areas serve as the best trekking destinations in Nepal during the wet season. It is because rain-shadowed zones receive less rainfall in monsoon and also it mostly rains during late afternoon at altitudes above 2500m. By the time it starts raining, trekkers will have reached their destination for the day. Another reason to trek during monsoon is fewer crowds even in popular destinations, which inspire trekkers who love isolation. Thus, trekking is possible during monsoon although it is not considered the best time of the year. However, some drawbacks like wet and muddy trekking paths, and leeches in the lower altitudes can be taken care of, with safety measures.
Here, we have compiled the best monsoon treks in Nepal, many of which fall in the rain-shadowed regions and a few others are the popular ones during the best seasons. Rain-shadowed zones are pretty much obvious to make the list, but even some of the popular ones are also included because of certain advantages and being possible to do during summer/monsoon.
10 Best Monsoon Treks in Nepal:
1. Upper Mustang Trek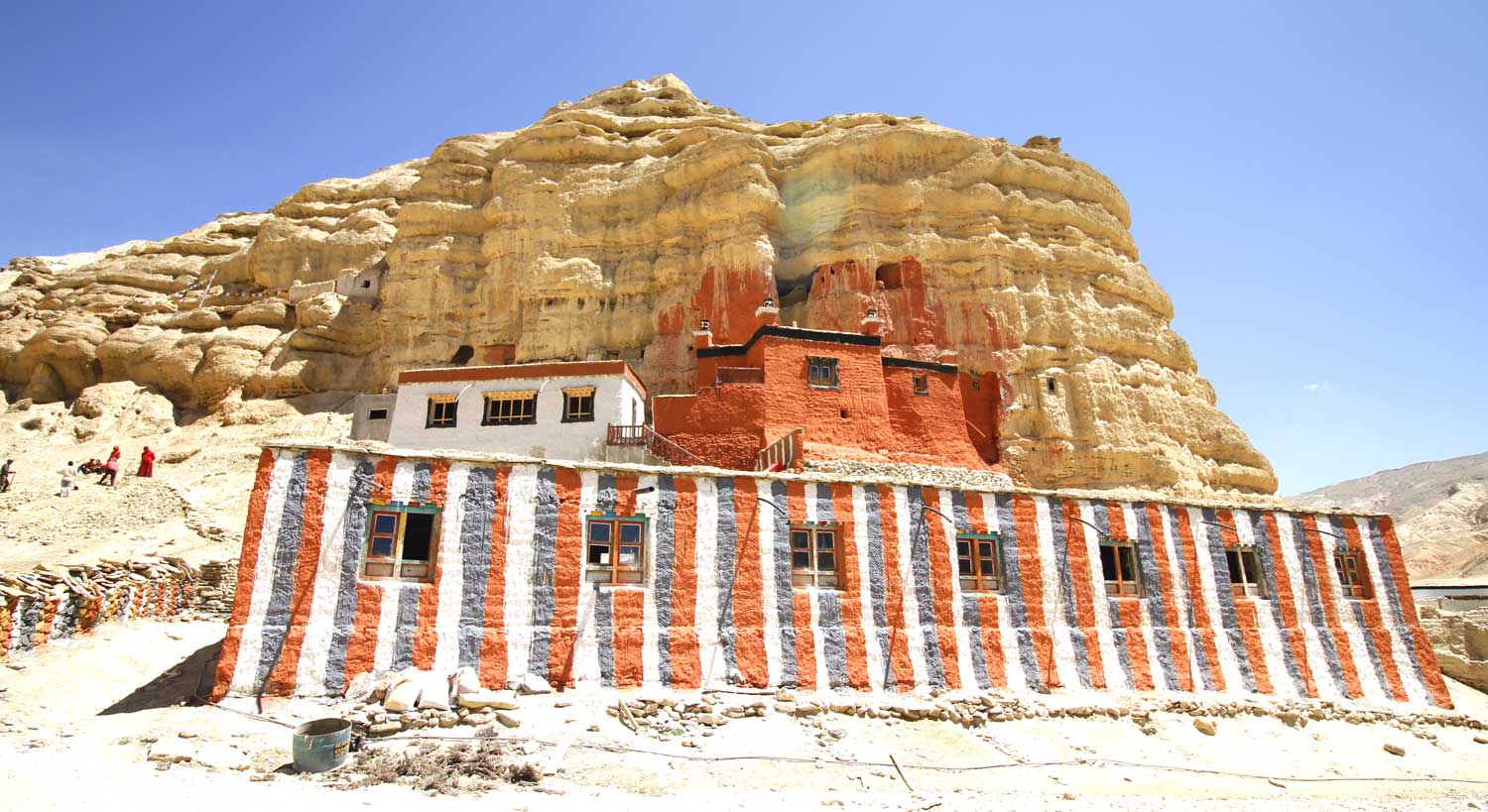 Upper Mustang region lies in the full rain shadow zone which makes it a number one trekking destination in Nepal during monsoon. Corroded hills, desert-like mountainous landscape and superb rock formations make this region a unique trekking destination in the Himalaya. Furthermore, travelers can hike all the way to the forbidden kingdom of Lo Manthang where traditional Tibetan culture is still well-preserved. Upper Mustang is situated in the mountain ranges of Annapurna and Dhaulagiri. One can commence the Upper Mustang trek followed by a flight or a bus ride from Pokhara to Jomsom. It should be noted that Upper Mustang is a restricted trekking region and hence, a special trekking permit is required.
2. Upper Dolpo Trek
Upper Dolpo trek is one of the best off-the-beaten path treks in Nepal. The trekking region is located in the Dolpo district in the northwestern part of Nepal. The region is inhabited mostly by followers of Bon religion. The major highlights include rich Tibetan culture, ancient monasteries, and the mysterious canyons. Adding yak caravans, mules, and the rock-cliff Gompas will make it an adventurous trek with a unique experience of local culture. Trekkers fly from Kathmandu to Nepalgunj, and then to Juphal to begin their adventurous trek. Alike the Upper Mustang trek, Upper Dolpo is also a dry mountainous region and receives lesser rainfall. Similarly, Upper Dolpo is also a restricted region and requires a special permit for trekking here.
3. Manaslu Circuit Trek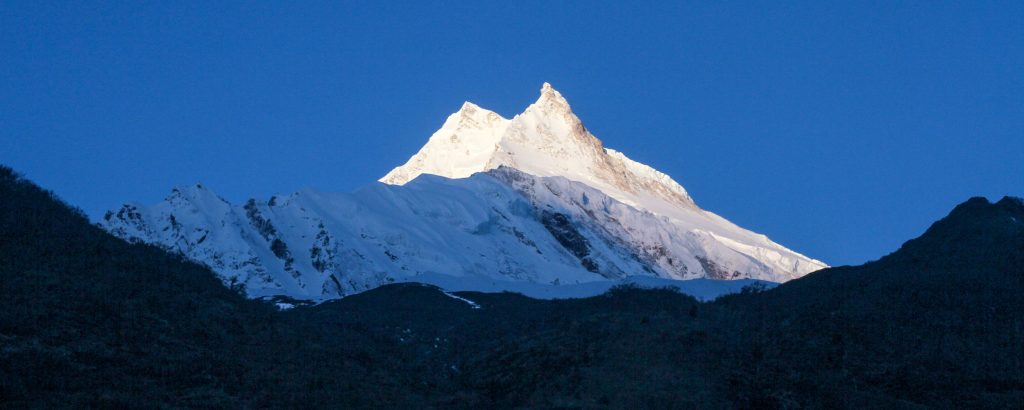 Manaslu Circuit Trek is yet another restricted trekking region in Nepal and a popular monsoon trek. Manaslu region lies in the west-central part of Nepal and the journey takes trekkers around Mt. Manaslu, the eighth highest peak in the world. Crossing the Larkya La Pass (5160m) which is considered to be one of the world's most dramatic pass, is the major highlight of Manaslu Circuit Trek. The breathtaking views of Manaslu among other Himalayan giants, the vibrant local heritage and rich biodiversity are some of the other rewarding highlights of the trek. One can kick off this adventurous trek with an off road drive from Kathmandu to Soti Khola.
4. Rara Lake Trek
Rara Lake is the largest lake of Nepal with exotic Himalayan flora. A numerous variety of birds in the surrounding makes it a must-visit monsoon trek in Nepal. Unlike the Upper Mustang and Upper Dolpo, the trekking trails of Rara Laka Trek are not dry. The turquoise lakes with its crystal clear waters make Rara a photographer's dream paradise. The Rara Lake and the trails are parts of the Rara National Park, which is located in the Mugu district near the far-western part of Nepal. Travelers can take a flight to Nepalgunj and then to Talcha airport to begin this beautiful nature trek.
5. Nar Phu Valley Trek
Nar Phu Valley Trek is an incredible trip on the off-the-beaten-paths in the remote corner situated on the northern wings of Annapurna region. The exotic far-flung area offers medieval Tibetan culture, vivid mountain views and spectacular alpine scenery. Travelers can drive as far as Upper Koto before beginning to trek to the secluded region. Perhaps no other trekking route in Nepal matches with Nar Phu Valley Trek when it comes to tea-house trekking. The conical canyons, dense forests, the high Kang La Pass, the herd of peerless yaks and a unique group of Himalayan tribes are what visitors will be able to see in plenty. The Tibetan chortens, Buddhist monasteries, the prayer stones and the extravagant mountain vistas contribute to making Nar Phu valley trek one of the best wilderness treks in Nepal. It is also a restricted trekking region thereby requiring a special permit through government registered trekking agency. The other requirement is a minimum of two people to obtain the trekking permit. Solo travelers normally pay for two persons and acquire a ghost permit through their travel partner.
6. Upper Humla and Limi Valley Trek
Probably Humla is the most remote district in the whole of Nepal. Trekking in this region is another underrated travel destination in Nepal because of the inaccessible rugged location. Adventure seekers who venture on this spectacular off-the-beaten-track experience panoramic mountain views. Also, the region of Upper Humla and Limi Valley lie on the rain shadowed zone thereby receiving minimal rainfall. Although a less crowded trekking destination of Nepal, it is unbeatably one of the best places for trekking during monsoon. Traveling during summer would probably give an opportunity to visitors to encounter the elusive snow leopard. The magnificent trekking route follows the ancient salt trading and pilgrimage route on the Nepal-Tibet border. The views of Mt Limi Himal, Mt. Saipal, and Mt, Kailash are sure to delight its spectators. The rarely visited Limi Valley with its incredulous red rock formations and medieval stone villages is nothing less that stepping back in time.
7. Jomsom – Muktinath Trek
Jomsom Muktinath Trek is a classic pilgrimage tour and more popular as a sacred site which is suitable to visit during monsoon season in Nepal. Traversing along the world's deepest gorge in the Kali Gandaki River Valley to reach the holy spot, Muktinath is a favorite destination to both Hindu and Buddhist devotees. It is considered to be one of the most popular trekking packages in the most popular routes of the Mustang and Annapurna regions of Nepal. Embarking on a spiritual journey along the area remains mostly dry throughout the year with very little rainfall. Winter, however, covers the area in abundant snow. Passing through impressive villages of Marpha, Kagbeni, Ghasa, Tatopani, Ghorepani and Jomsom is such a memorable experience to all trekkers.
8. Ghorepani Poon Hill Trek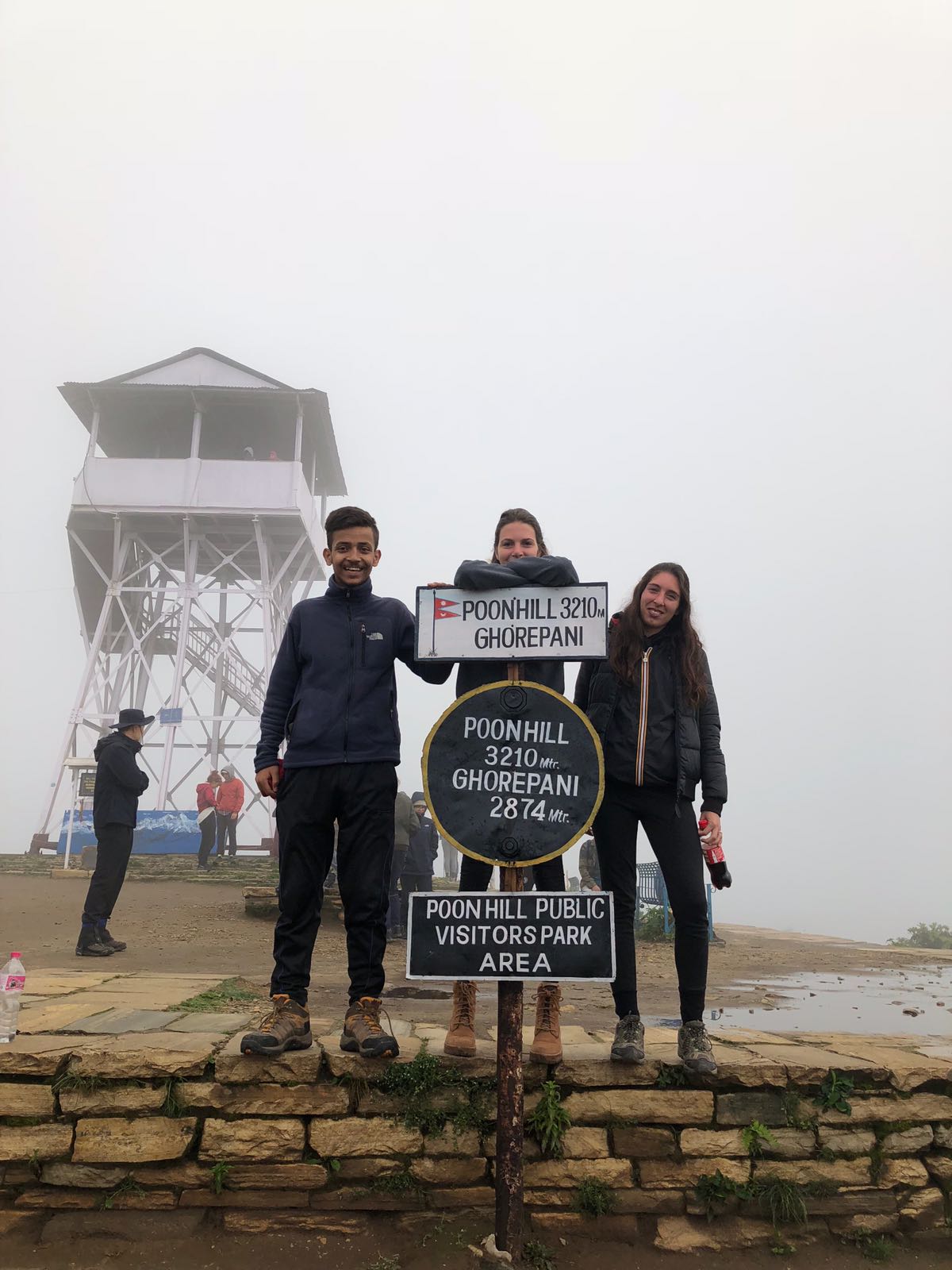 Ghorepani Poon Hill Trek also known popularly as the Annapurna Sunrise Trek can turn out to be an exciting monsoon trek despite the wet trail and limited visibility. The trails on this route are wide, well carved out with stone steps and the creepy leeches are relatively non-existent. Trekkers on this route get ample opportunities to experience a typical rural lifestyle and an excellent ethnic munificence. Early and late monsoon on this trekking trail can prove to be a great time as it allows travelers to avoid huge crowds. Traversing picturesque villages like Ulleri, Ghorepani, Tadapani, Ghandruk and many others will showcase their own uniqueness and their own natural settings. The most renowned sunrise view from Poon Hill early in the morning is the significant highlight on this trek. Mind-blowing views of epochal Himalayan peaks such as Machhapuchhre, Tukuche, Nilgiri, Annapurna South, Dhaulagiri and more than 20 other peaks will leave travelers spell bound.
9. Annapurna Circuit Trek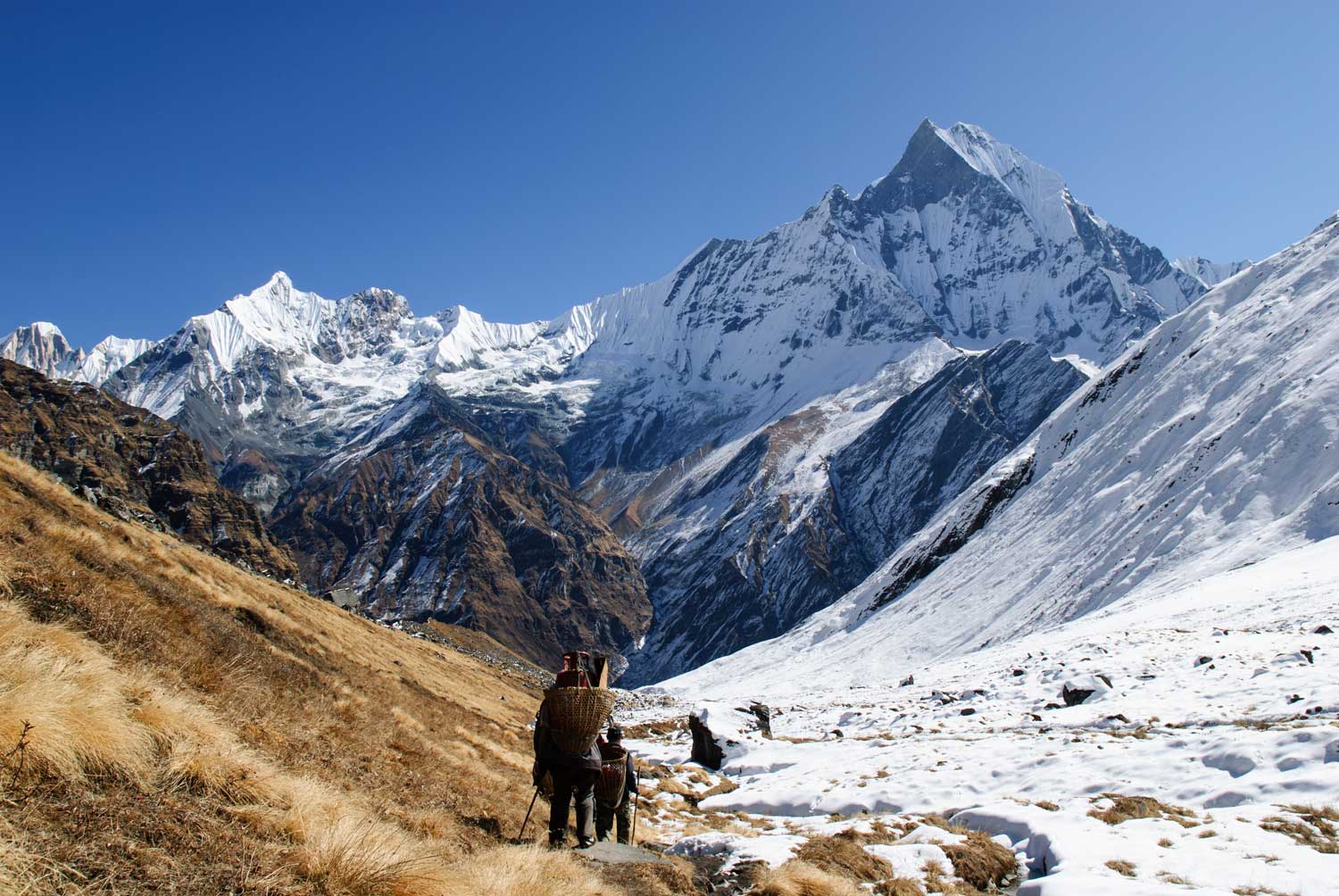 Annapurna Circuit Trek is unbeatably one of the most demanded and the most popular trekking destinations in Nepal. Besides, it is believed to be one of the most beautiful trekking routes in the entire universe. The spectacular trekking trip allows visitors to plunge into the rich cultural wealth, the untouched trails and the diverse Himalayan flora and fauna species. The magnificent mountain peaks such as Mt. Manaslu, Ngadi Chuli, Annapurna, Pisang, Machhapuchhre, and numerous others greets its visitors on the entire route. Walking through the highest pass in the world – Thorong La Pass, and the world's deepest gorge, the Kali Gandaki Valley, is a proud moment for every traveler to have achieved this feat. Impressive villages like Jagat, Sirung, Dharapani, Chame, Pisang, Manang, Ghandruk, Tadapani, Ghorepani and others having their own distinctive features will etch wonderful memories on every traveler's mind.
10 Everest Base Camp Trek
Everest Base Camp Trek is probably the most popular trekking destinations in the whole world. This spectacular journey is often taken up by trekkers during the spring or autumn time when the routes are overcrowded and the teahouses remain jam packed. However, it is possible to trek to the Everest Base Camp in any of the four seasons of Nepal. Trekking during monsoon will let the visitors to experience rain showers during the first few starting days of the trek. The weather will start improving and offers clear blue sky as hikers ascend to higher altitudes. Stumbling from the backyard of the world-famous Sherpa people and the high-altitude monasteries, one can explore the open natural beauty including the bountiful flora and fauna in the Khumbu region of Nepal. Getting a flight ticket to Lukla during monsoon is not a problem. Similarly, accommodation and food on the entire trekking trail will be easily available.
Conclusion
With the arrival of summer in Nepal, it is time for arrival of monsoon as well. The weather becomes notoriously muggy, not sparing any soul, with heavy rainfalls causing floods, landslides or road blockades. But, it is amazing to get to see quite a handful of foreign tourists with their small backpack heading towards the mountains. Many people are deceived by the monsoon in Nepal making them believe that the entire country has been affected by the heavy downpour. Very less people including the Nepalese know about the rain-shadowed zones in Nepal which are completely safe and exciting to trek to.
There are several suggested trekking destinations in Nepal amidst the monsoon months. Obviously, trekking in the Himalayas during monsoon is not exceptionally cold and one can observe some trekkers enjoying their trek. Although, monsoon trekking in Nepal may have a handful of demerits, yet there are several advantages to win over and entice trekking aficionados to reach up the mountains and scream their heart out. No wonder what a season trekker may feel on achieving a feat to reach to the base camp or accomplish a moderate trek, it is certainly a weird new sensation to accomplish the same during the monsoon season in Nepal!