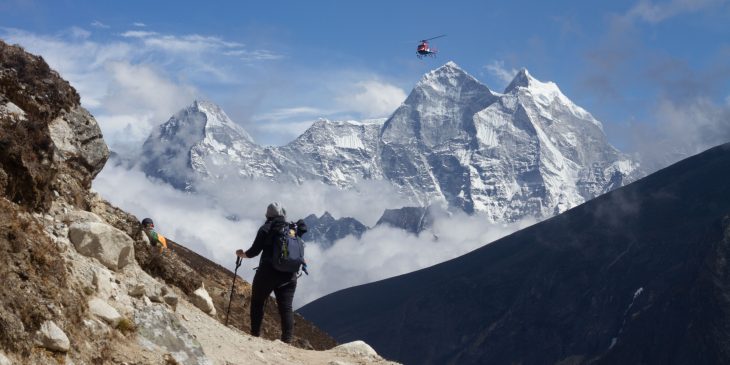 Nepal is a top destination for trekking trips and climbing expeditions, the dominant reason being the Himalayas. To those who are not familiar with trekking-peaks, it generally refers to the mountain peak that requires little to no technical climbing experience. But the ones requiring some experience and using mountaineering equipment are also classified as trekking-peaks which do not exceed 7000 meters. So, in simple language, trekking-peaks can be defined as those mountains which are not as difficult as compared to 8000 and 7000-meter peaks.
Climbing trekking-peak is something more than just trekking, besides walking through the trekking trails. This particular adventure also requires climbing to reach the summit of the peak. However, novice climbers without any prior climbing experience can also undertake these trips as they are relatively easier trekking-peaks.
1. Island peak
Island peak is one of the most popular trekking peaks of Nepal standing tall at 6189 meters. Island peak is located inside the Sagarmatha National park in the Everest region of the Himalayas. The peak is named so because it resembles an island in a sea of ice. Although it is otherwise named as Imja Tse, the mountain has been popular by the name of Island Peak. Novice climbers who wish to experience trekking to the top of Island peak require very little technical know-how as it is not very difficult. Every year hundreds of trekkers add an adventurous climb to the peak in addition to the wonderful Everest Base Camp trekking in Nepal. It will take around 20 days for successful completion of Island peak climbing with a visit to EBC and ample time for acclimatization.
2. Lobuche Far East
Climbing Lobuche Far East peak is comparatively challenging and more difficult than the Island peak, but much more rewarding indeed. Climbers get to see amazing and lovely views of Everest along with Lhotse, Ama Dablam, Nuptse, and Pumori. The mountain has a height of 6145 meters and is located close to Khumbu Glacier. Lobuche Far East is separated from Lobuche East by a long deep notched ridge; together the two peaks are a part of Lobuche mountain. It is also a popular trekking peak in Nepal which is ascended by hundreds of climbers every year as a part of the exciting adventure in the Himalayas. The itinerary and time to complete the Lobuche Far East climb are nearly similar to Island peak climbing as both of them involve a visit to Everest Base Camp.
3. Larkya
After the two most popular trekking peaks in Nepal, the next one on this list is not quite famous but equally beautiful and exciting to trek. Larkya lies in the Manaslu mountain range of Gorkha district so it has not been as much popular as those in the Everest region. Beginning the adventurous trek, one gets to know the rich cultural heritage and unaltered bio-diversity of the Manaslu region. From the summit of Larkya, trekkers get to see some fabulous views of the mountains including Manaslu, Ganesh Himal, Annapurna and many more. Getting atop of Larkya is a long journey but relatively an easy climb due to the slightly less-steep snow slopes. One can complete this trip in around 21 days.
4. Mera Peak
Mera peak is the highest trekking peak in Nepal with an approximate height of 6461 meters. The only challenging aspect about climbing this peak is its elevation, so novice climbers can join Mera peak climbing as technical mountaineering skills are basic. Trekkers get the most rewarding views from Mera peak amongst all other trekking peaks. Glimpses of five of the 8000-meter peaks from the summit of Mera, including Cho Oyu, Lhotse, Kanchenjunga, Makalu, and the Everest can be savored. The mountain is located in the Solukhumbu district of Sagarmatha zone of Nepal. The overall summit and descent of the peak can be completed in about 18 days with proper acclimatization time.
5. Yala Peak
Yala Peak is located in the Langtang region. It is considered to be a relatively easier climbing peak in Nepal. The summit of Yala proves to be a vantage point for the view of the last eight-thousander, Shishapangma (8013m) of Tibet. Yala peak is around 5700 meters tall which is most popular for those beginner climbers who wish to ascend a Himalayan peak in less time possible. It takes only around 14 days to complete the whole trekking journey and ascending the summit with a round trip to Kathmandu. Yala Peak is not very much technical as compared to other trekking peaks, however reasonably good fitness level is anticipated. Yala peak climbing can be completed within 20 days.
6. Cholatse Peak
The literal meaning of Cholatse is 'Lake Pass Peak' in the Tibetan language as 'Cho' is a lake, 'La' means pass and 'Tse' refers to the mountain peak. One can easily guess how the peak and its environment must be like. The summit is atop 6440 meters and is located in the Khumbu region of the Himalayas. The peak remained unclimbed until 1982 and in fact, it is the last peak in the Khumbu region to get a permit for climbing. It was only then when it was classified as a trekking peak of Nepal. Cholatse is by far the most challenging one on the list as there is no easier option to ascend or descend the peak. Successful completion of Cholatse peak climbing trip will take around 26 days.
7. Pisang Peak
Pisang peak is located above a village with the same name in the famous trekking trails of the Annapurna Circuit. The mountain stands tall at 6091 meters and climbing to the summit proffers magnificent views of the Annapurnas, Dhaulagiri and other snow-capped peaks of the region. It is a strenuous adventure, thus a previous climbing experience is required for Pisang peak climbing. It will take around 18 to 20 days to complete the climb and descend provided that trekkers include a visit to Muktinath temple additionally, as desired by most of the adventurers on this trekking peak journey.
8. Tent Peak
Locally known as Tharpu Chuli, Tent Peak is another trekking peak of Nepal on this list, which is located in the Annapurna Sanctuary. Tent peak climbing is not quite physically challenging as Island peak or Mera peak but indeed a thrilling experience to savor some of the glorious views of Annapurna I, III and South, Hiunchuli, Ganapurna, and many more 7000 meter peaks. The trip package of Tent Peak climbing can be completed within 18 days as it also includes a trek to Machhapuchhre and Annapurna Base Camps before heading to Tent Peak base camp.